The EKSA GT1 headphones have recently entered a now very vast panoramawhich really includes many options available to users. In-ear Bluetooth headphones are indeed now cleared through customs and it is no longer a novelty to see them worn by people on public transport, during sports or at home.
In this case, however, the EKSA GT1 they point to a specific targetor that of gamers, proposing some headphones thought specifically for gaming, thanks to many small features that stand out right away. However, we are talking about a product that enters a market a lot competitive and, therefore, it is worth investigating it properly in our review!
The first impact with the EKSA GT1
The EKSA GT1s arrive in a respectable packaging which, in addition to a first cardboard wrapperincludes a solid box with a magnetic closure, decorated with a stylized version of the headphone case. Opening the package, then, the real product welcomes us, placed in the center on display.
The clamshell case has an aggressive and angular shapewith two long led strips which show the battery charge level. The combination of matte and glossy plastic, then, makes the design really interesting and, clearly, closely recalls the typical "gaming" aesthetic so loved by hardcore gamers.
The two headphones, then, are no less. Again we see an eccentric designwith two LEDs on each headset positioned to remember the eyes of a cobra. Also in this case, then, the combination of opaque and glossy plastic makes the product beautiful to look at.
Turning instead to a practical levelthe case proves itself lightweight and comfortable to hold, even if larger than average. Likewise, headphones can pull out easily and they can be answered with the same amount easethanks to the two magnets that immediately push them into place. As always, in these cases, each cap boasts electrical contacts which allow the internal batteries to recharge once the case is closed.
Honorable mention must be made to the comfort of headphones. These are indeed very light and, likewise, theirs form makes them comfortable to wear. To this are added gods rubber pads of different sizes (Small, medium, and large), which therefore are suitable for any type of ear.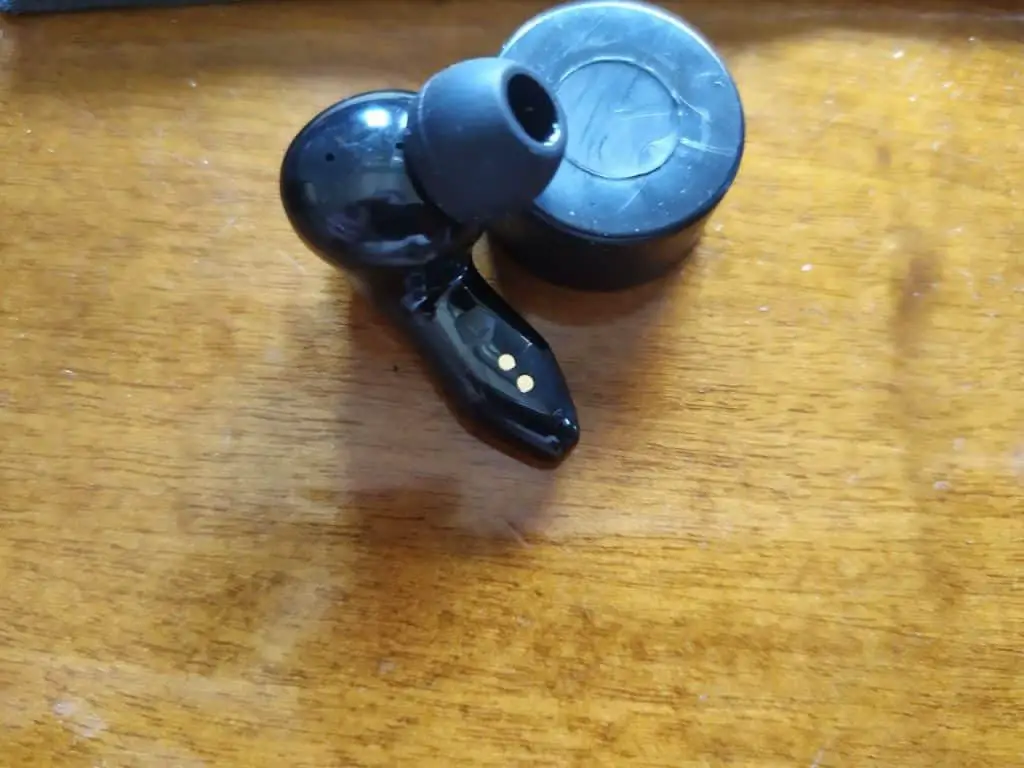 In fact, the headphones prove to be comfortable to wear even for several hours and in some cases it even goes as far as forget you are still wearing them. This is by no means to be taken for granted, as many in-ear headphones tend to be annoying after a certain period of time.
Moreover, the battery life of the two earphones is around four hours of use at high volume, which also become more in case of lower overall volume or in the case of "dead" moments where they are worn without listening to anything. Added to this is the case, which guarantees the 36 total hours indicated on the box.
Let's see the EKSA GT1s at work!
As always in these cases, before using the EKSA GT1, a first pairing of the headphones. To do this, simply remove from the case and, immediately after, search for Bluetooth devices with your smartphone. After doing this the first time, the connection will be automatic. It must be said that the first pairing can be problematic, since initially the headphones were detected as two separate devicesleading to unsynchronized sound.
Thankfully though, it is just reset them by holding down the button and try a new pairing, which was successful. Honorable mention should be made to compatible devices, which are practically all those on the market. The EKSA GT1s can in fact be connected to various consoles, PCs and the aforementioned smartphones.
Once connected to the phone, headphones have various functionswhich can be used with i sensors present on both earphones. In fact, several are described in the manual gesturewhich allow you to answer calls, play music, access the phone assistant and much more.
Precisely among these functions we find the possibility of toggle between two sound modes: the music mode and the gaming mode. As the names say, the first is one normal mode of use, useful for everyday use and for listening to music. In reverse, gaming mode seems to be a mode specially designed for playing. It would seem.
In fact, in practice we don't see too much difference between the two sound modes and, although with gaming mode we can actually hear some bass more preciselythe final result remains mostly similar. The famous latencyhowever, it is actually less than what is perceived with other Bluetooth headphones and from this point of view the EKSA GT1s are able to show all their muscles.
Clearly, keep that in mind let's talk about Bluetooth headphones which, consequently, inevitably have a minimum level of latency, even if in this case it is lower than the average. In any case, if you do not play at "pro" levels, the EKSA GT1s are more than satisfactory and you will hardly notice a delay far less than a second.
The general audio, however, it always remains at excellent levels and it is always "readable" even in the most excited game phases of titles such as Call of Duty: Mobile. Moreover, the headphones prove themselves performers even in titles like Project Sekai, where audio synchronization is not to be underestimated.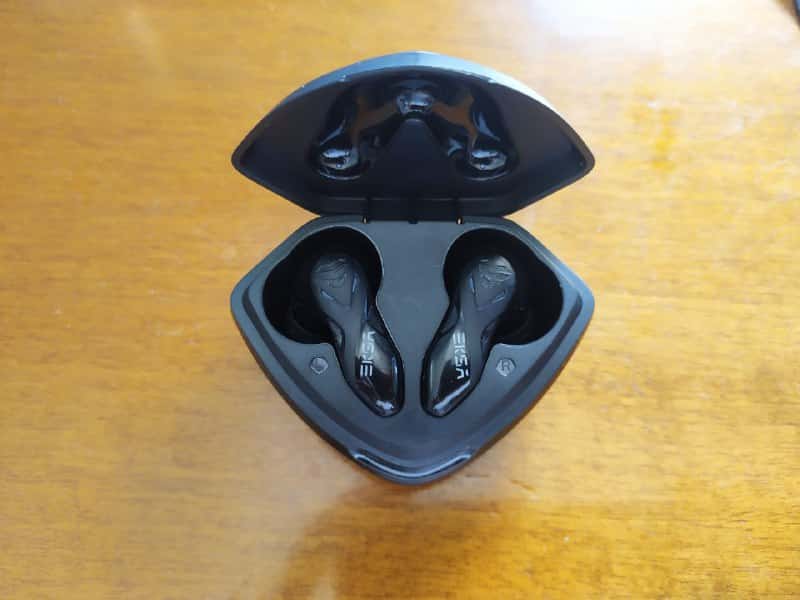 So if on the gaming side we can be satisfied, we can say the same of the purely daily use of the product. The EKSA GT1s boast an excellent microphoneable to guarantee a always "clean" audio during calls. This is also made possible by a good one cleaning of background noise which, while remaining noticeable in the most extreme cases (such as heavy traffic), is basically eliminated.
Apart from this, the autonomy of the headphones and the case guarantee the ability to use the headphones even for a period of time prolonged and the already mentioned gesture allow to easily access various commonly used functions. The only "defect", if it can be called that, is given by shape of the casedefinitely less thin than average and therefore less comfortable to put in your pocket.
The EKSA GT1 at a glance
The EKSA GT1 they prove to be a great product, which boasts a really good value for money. Clearly, by paying higher figures we can access more performing headphones, but this product manages to assert itself easily in its price range thanks to various strengths.
The EKSA GT1s are indeed great bluetooth headphonescompatible with most devices currently on the market and able to guarantee good overall quality. We see in fact some excellent materialsflanked by a general ease of use – thanks to lightness, gestures and noise removal in calls – and a satisfactory battery life.
The latency of the sound actually proves to be lower than averagebut gaming mode doesn't bring too many differences in overall audio sensations.