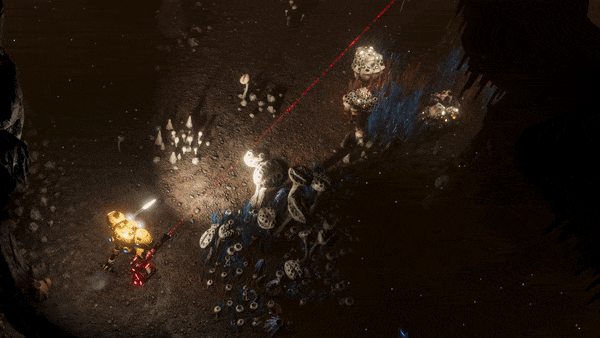 Introducing EXOR Studios The Riftbreaker: Into the Darki.e. their newest expansion for the acclaimed strategic world and general mechs, which u May 29expanded the original title into a world of birds and caves intertwined with the new Krytalic biotope. On Steam you can wishlistn the upcoming expansion, which, in addition to the paid DLC for the game, will also include free content called The World Expansion II during the general update. Both packages are loaded with a lot of new functions, revised content and that's all!
The World Expansion II, available for free, features:
New, to explore the Crystal Caverns biome, formed by an interwoven network of underground worlds located deep below the surface of the Galatea 37 plant;

New scenario for Survival mode, set in a new biome;

New mechanics of cave digging, where you use the drilling arm Mr. Riggs or explosive equipment for removing overhangs;

Several new, hitherto unseen species have created hordes of mechanics that you will have to face in every dark cave experience;

More than 70 new research subjects and technologies, expanding the composition and capabilities of Mr. Riggs;

You will be able to use drones to collect resources and valuable loot, and you will also be able to expand your energy networks with the help of Energy Relay stations;

New weapons such as Bouncing Blades and defensive weapons, for example in the form of a Laser Gatling Tower spinning with energy projectiles;

Several quality-of-life patches, which for example also start the long-awaited Building Ruins function;

Lots of other content that will be detailed in the Patch Notes on 05/29.
Paid, progress DLC Into the Dark enriches the available content of the pointer:
A new branch of the ongoing campaign set in the new Crystal Caverns biome of Krytl;

Building an underground warehouse using soft rock glass and shaping the environment to meet your exact needs;

Expanding the technology tree available during the campaign only to the new biome;

Collecting information about its fauna, flora and other interesting things found only in this underground system of caves;

Thanks to new technological weapons, it is possible to repel the flows of huge, tunnel-digging installers;

Adapting base building to new, terrain-changing abilities;

New details of the past of the protagonist Ashley;

The course is now integrated directly into the main campaign of the original game, which is gradually unlocked by completing the main course (if you complete the course of the main game, the expansion will be available immediately);

For 9.99 so you're at 29.05. will expand its Riftbreaker benefit not only with the recently available update, but also with eight courses, a new expansion, the complex content of which will be described in more detail in the coming Patch Notes.