A Century Long Mystery (Shijima Story)
It is certainly not the first time that someone has invented to make a live action interactive like the guys at Square Enix did with The Centennial Case – A Shijima Storywith hand that you have surely met thanks to the famous The World Ends With You. In this title we will find ourselves as detectives impersonating Haruka Kagami in multiple eras.
In truth the protagonist is a writer and as soon as you start the game you find yourself at a copy signing event of Miss Haruka. Here we will also get to know the shoulder in a few moments Eiji Shijima, which also gives the game its name. Her is the family that will lead us to investigate various events that, as if we were Mrs. Fletcher, will show us straight in the face. I'm talking about more or less elaborate murders.
The writers could certainly have put more effort into elaborating engaging and plausible situations but that's not all to be thrown away. Let's investigate a bit with this review.
Plus a TV series
in The Centennial Case – A Shijima Story we will spend most of our time observing and enjoying a purely Japanese show with all its pros and cons, although I can say from experience that the actors act very well, except for some moments of amazement or exaggerated reaction typical of entertainment Japanese. If, like me, you are used to eating anime and TV series at full blast, it won't bother you too much, or even make you smile.
During the various "episodes" we will be half spectators because often (too much) we will have to interact with the press of a button or with a multiple choice that, even I, who am a healthy bearer of insight, have understood to be completely useless.
There is the occasional button press to collect evidence but multiple responses that they don't even slightly change the texture or the course of events made me turn up my nose continuously. I would have preferred not to decide exactly what the protagonist will answer or she will only think whether it would have influenced in any way the line of events. This detail may seem insignificant but it badly breaks the immersion in the game, even though the developers blatantly did it for the opposite reason.
Very nice the idea of ​​putting a person expert in the field of detective novels (she is a writer, you know) as the protagonist who with her skills will give us the opportunity to explore and dissect the events of history. Equally nice was the idea of ​​developing the story in several historical moments in the span of a precise century. The various eras also make the continuation through the various chapters / investigations varied and enjoyable.
The Suspects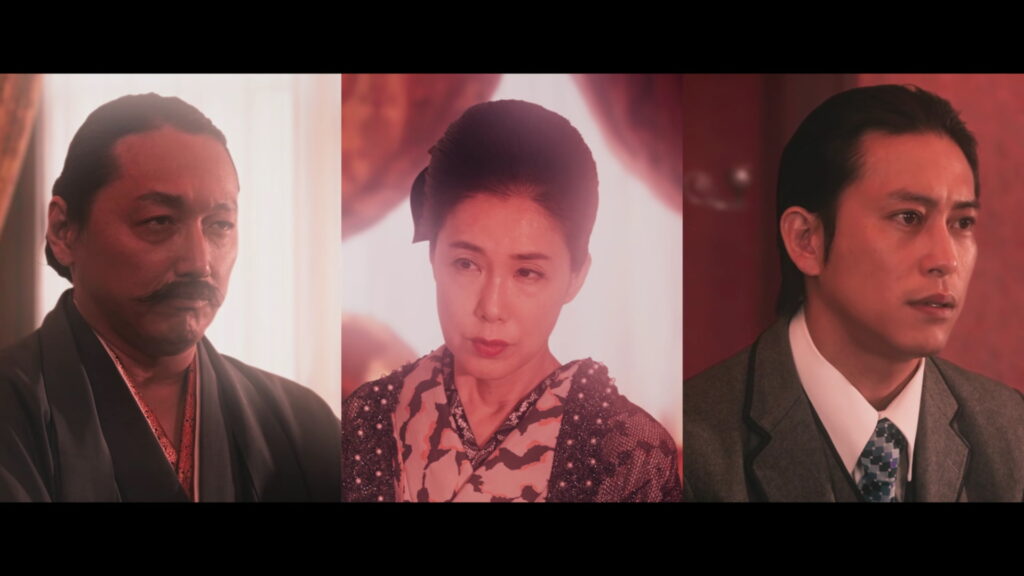 There can be no talk of real gameplay in The Centennial Case – A Shijima Story because, not counting the moments when we have to make useless choices, it will be like watching an investigative series in Poirot style of the rising sun.
When the bad things happen, it will be up to us to investigate and ask ourselves the right questions to arrive at the final solution.
This happens through a grid of hexagons that contain the key questions of our case. We will have to go through it and combine everything we know to formulate hypotheses. Their correctness will have to be verified but, at least, we will have an idea of ​​the possibilities. The association process is learned from the first case because the tutorial is more confusing than anything else. However, it is an easy concept even if it does not seem so at first glance. This process is ultimately very closed and questions can only be associated with certain hexagons of facts and / or objects. It can be said to be a more elaborate version of the game for children with the star, the circle and the square (needless to explain it to you).
However, there are two reasons that made me appreciate it anyway, despite everything.
It makes every hypothesis and possibility related to the case slower and easier to assimilate without stressing ourselves too much and gives us greater clarity on what may have happened during the show. Finally, we will have to expose our theory and without compliments accuse who we think was the perpetrator of the murder. We should also respond in kind to those who think you are wrong to increase our credibility or our fool (not to be vulgar).
The culprit is …