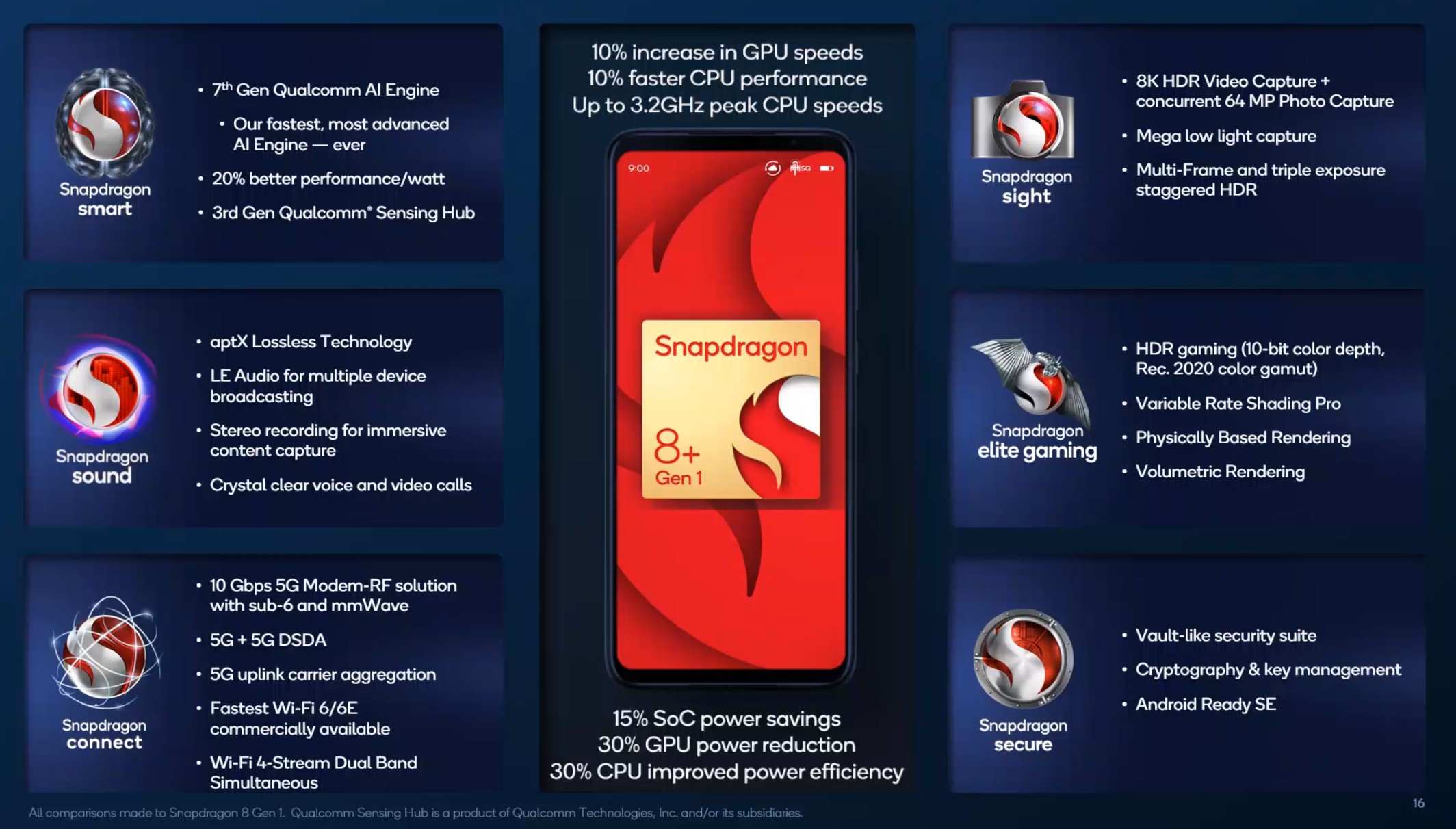 In December of last year, Qualcomm presented the Snapdragon 8 Gen 1, a top-of-the-range chip for Android mobiles that in less than six months has already lost its crown. The new king is
Snapdragon 8 Plus Gen 1
, a platform that promises more power and performance. In addition, the American company has announced the Snapdragon 7 Gen 1, a solution for mid-high range mobiles with a focus
gaming
.
Qualcomm claims that compared to the previous chip, the Snapdragon 8 Plus Gen 1 has a 10% faster Kryo octa-core processor that reaches 3.2G Hz. The Adreno GPU has also improved its speed by 10%. The jump in chip power is smaller than on other occasions, but this time the design has focused on improving efficiency. In this sense, Qualcomm ensures that the Snapdragon 8 Plus Gen 1 improves power consumption by up to 30%. "[…] users can expect up to an additional 60 minutes of gameplay.
Another point where the Snapdragon 8 Plus Gen 1 improves is the artificial intelligence, which now provides up to 20% more performance per watt. On the other hand, the 5G connectivity provided by the Snapdragon X65 Modem-RF is maintained, which is technically capable of downloading data at 10 Gbps, Bluetooth 5.3 and dual-band Wi-Fi. Nor does the ability of the chip to capture 8K video at 30 FPS or 4K at 60 FPS change with respect to the Snapdragon 8 Gen 1, all with HDR activated.
The first phones with Snapdragon 8 Plus Gen 1 should be available during the third quarter of 2022. Some manufacturers such as Asus ROG, Black Shark, Honor, Lenovo, Motorola, Nubia, OnePlus, Oppo, Realme, RedMagic, Redmi, Vivo, Xiaomi and ZTE have already committed to using the new Qualcomm chip in their terminals.
Regarding the Snapdragon 7 Gen 1, it is a chip whose graphics performance is 20% higher than the previous generation. This platform retains some features of its older brother, such as the Adreno Frame Motion Engine, which promises to make games run smoother by increasing their frame rate. It remains to be seen if this chip will replace the Snapdragon 8 Gen 1 for mobiles gaming. At the moment Honor, Oppo and Xiaomi are the only brands that have committed to using this processor in their terminals.
The first phones with Snapdragon 7 Gen 1 will be available during the second quarter of 2022, so their presentation should be a few weeks away.