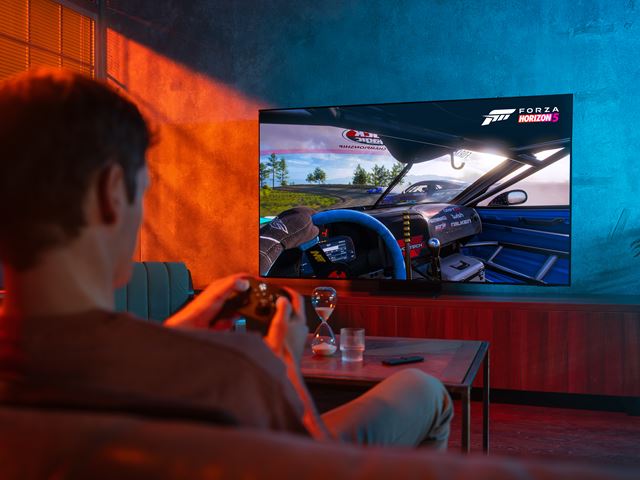 For 17 years in a row, Samsung has been defending the leadership in the number of TVs sold in the world. If Samsung wants to maintain its leadership and further blow compared to competing manufacturers, it must invest more in innovative technologies.
The TV Line up for the year 2023 looks, however, after the sub's watery presentations. You can choose not only from a multitude of diagonal sizes, but also from different backlight technologies. But you won't have to worry about color quality, as Samsung has a 10-bit color software and Pantone color certification for all top models. In terms of software, the Samsung TV is traditionally equipped with Sun, integration into Smart Things and, of course, the XBOX application that allows streaming games via Cloud Gaming without the need to connect a console. All you have to do is pay a Game Pass Ultimate subscription, connect the gamepad and start playing (Fortnite even without a subscription).
NEO QLED
At first glance, it seems illogical to me that nowadays an absolute top model does not offer an OLED panel. Just like OLED technology, Samsung also believes in its Quantum Mini Led panel backlight technology. You can choose from a wide range of diagonals, i.e. from 55 to 95 inches, not to mention 8K resolution for the top models QN900C, QN800C and QN700C. New for 2023 is the embedded artificial intelligence that takes care of the best image settings for overheated media. Minuloron models had 1 AI unit, but the QN900C and QN800C have 64 AI units, while the Neo QLED models have 20 AI units.
QN900C specification:
Resolution: 7680 x 4320

Backlight: Quantum Mini LED

Processor: Neural Quantum 8k

AI: 64 units

Color display: 100%

Pantone color certification

Color depth: 10bit

HDR10+: NEO QUANTUM HDR 8K+

Motion Xcelerator: 4K/144Hz, 8K/60Hz

FreeSync Premium Pro

Multiview: 4

Speaker power: 90W

Speaker configuration: 6.2.4

Motion Tracking Sound (OTS): Pro

4x HDMI 2.1
OLED
The OLED offer is relatively smaller compared to Neo QLED, but you can choose from two model series, i.e. S95C and S90C/92C with diagonal sizes of 55, 65, 77. Both cases will have 4K resolution and have 20 AI units. The panel works at 4K 120Hz, with the difference that the S95C has OTS+ technology and the S90C/92C only has OTS Lite. The difference is also raised, i.e. 70W in configuration 4.2.2 against 40W in configuration 2.1.
QLED
The QLED line has been on the market for several generations, so it is probably not necessary to present it in more detail. Like OLED, it will only be available in 4K, but the range of diagonals will vary from 50 to 98 inches. There will be three models of the series on offer, but there will be more differences. The top model Q80C will have 20 AI units, Q70C only 1 AI unit and Q60C/67C no AI.
The difference is also in the backlight, where the former uses direct backlight technology, while the other two models use EDGE LED technology. Q80C also excels in the sound quality, where with its 40W and 2.2 configuration it overcomes the 20W 2.0 configuration of the other models. However, if you are filling the laptop mainly for gaming, it is advisable to avoid the basic model, as it does not have FreeSync technology and only has a 60Hz panel compared to the 120Hz panels in your models.
Of course, the offer also includes ksky Lifestyle srie designs. The parameters are almost on par with the standard QLED models, and the FRAME, SERIF and SERO models also have a similar 4K resolution with EDGE LED backlight, 1 AI unit, 10-bit soft colors, and 120HZ and FreeSync Pro support for the SERIF and FRAME models.
TERRACE is also an interesting model, where Samsung declares that it can be placed practically all year round, and that means it is resistant to moisture, frost and heat. The surface of the TV has a special anti-reflective coating to ensure the best visibility even in direct sunlight. In contrast, the FRAME model has a matte surface to ensure the best illusion of paint. And we must point out that he knows this gift well.
But Samsung didn't just end up with a TV, but also updated its soundbar model range. With its top quality Q, it perfectly complements its top TV models and the combination of high-quality sound and picture will surely excite you.
Q Sri
A total of 6 models will be in combat ovau yarn, you can choose them directly. The top model Q990C has an 11.1.4 configuration with 656W power and 22 speakers. Of course, we don't lack a lot of sound modes, such as Game Pro or Adaptive voice, which will take care of the pronunciation of the spoken word. Of course, there is also ATMOS, DOLBY MAT, DOLBY DIGITAL PLUS and DOLBY TRUE HD certification, as well as DTS-HD HRA, DTS-HD MA, EXPRESS and 5.1ch. The first two basic models have only 5.1ch DTS (Q60C) and Q600c as well as DTS-X. Vkonovo with models nailed as follows:
Q990C: 11.1.4 656W 22 speakers

Q930C: 9.1.4 540W 17 speakers

Q800C: 5.1.2 360W 11 speakers

Q700C: 3.1.2 320W 9 speakers

Q600C: 3.1.2 360W 9 speakers

Q60C: 3.1 340W 7 speakers
Of course, the soundbar of the dock also works with TV speakers, so you know that you will additionally improve the quality of surround sound