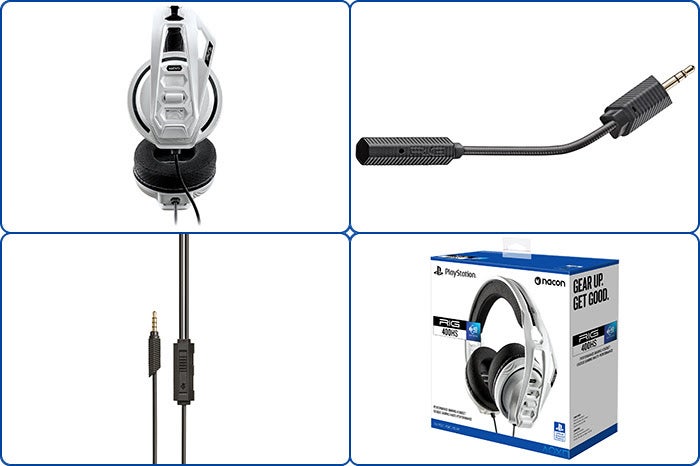 Officialě The licensed gaming headset with a microphone RIG 400HS from Nacon, designed for the PlayStation 5 and PlayStation 4 game consoles, allows you to hear clearly with its top-notch sound delivery. and zřetelně everything you need to win. Post more detail while playing; and catch more hints just by listeningů of what is about to happen to you. Get a stronger feeling that you are an integral part of the action and react faster to any game situation.
Control the volume with the cable's integrated remote instead of on-screen menus, and summon allies or taunt enemies with the ambient noise-canceling microphone – and až you've had enough, disconnect the microphone and enjoy undisturbed solo playing. Thanks to the padding of the head bridge and the earpieceů designed with regard to the need to play your head will feel like cotton for hours.
Listen to games in a new way and get the RIG 400HS gaming headphones from Nacon, because they are on sale here for a recommended retail price of K1,299, said distributor HYPE.
Compatible with PlayStation 5 and PlayStation 4 game consoles.
40mm highly sensitive drivers provide explosive sound in games, with which you will suddenly find yourself immersed in the game.
The lightweight design of the headphones is easy to adapt to your needs and at the same time will ensure your long-lasting comfort.
The flexible and durable construction of the earphones is also teměř indestructible.
The padding of the head bridge reduces the pressure on the head and you must therefore play comfortably. whole hours.
Memory foam earcups block noise from the environment and ensure your full listening experience.
The detachable microphone suppresses ambient noise.
Remote volume and microphone controls are integrated on the cable.
The 3.5mm analog connector is also compatible with computers, other game consoles and personal electronic devices with the appropriate jack.