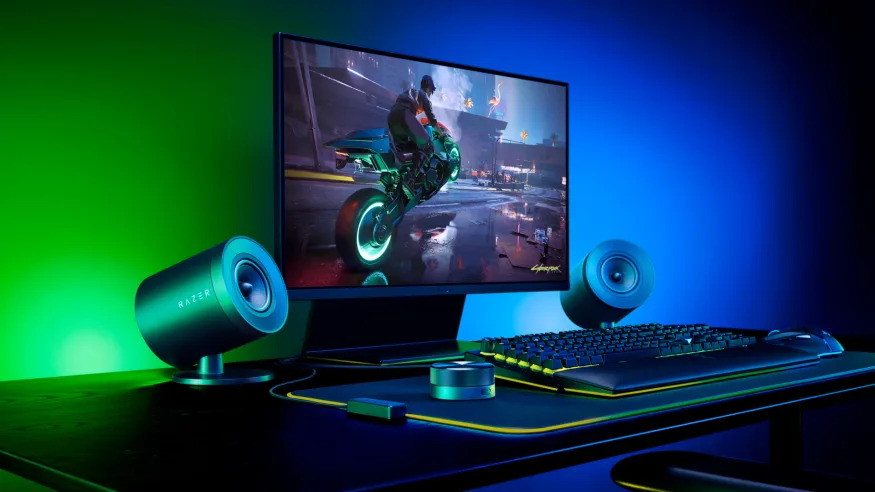 Razer introduces its new PC line of hernch speakers called Nommo V2, which is designed based on three pillars: performance, absorption and connectivity. The Razer Nommo V2 Pro offers a combination of a full-range speaker and a wireless subwoofer, which is enhanced by THX Spatial Audio technology. This is complemented by Razer Chroma RGB lighting with rear projection for greater immersion. The line will also include the Razer Nommo V2 desktop speaker with wired subwoofer and the Razer Nommo V2 X speaker for a powerful, minimalist setup.
The Nommo V2 Pro boasts industry-leading features, full-range 3″ drivers and aluminum phase connectors for natural and crisp acoustics, and is the world's first PC gaming speaker system to feature a wireless bottom-firing subwoofer. for deep, in-room booming bass with a connection without jumpers.
"Today we're redefining what gamers should expect from their desktop audio device," said Barrie Ooi, PC Gaming Researcher at Razer.The Nommo V2 series is not just about the ceiling – it's about fully enjoying and immersing yourself in the game. Whether you're following the footsteps of your enemies in a first-person shooter or jamming to the soundtrack of the latest RPG, these speakers for PC games will provide you with an incredibly rich audio-visual experience."
So that gamers can enjoy the best sound quality, Nommo V2 Pro is the world's first desktop speaker system equipped with THX Spatial Audio technology, which provides a wide and faithful room sound. For the first time in the offer of Razer speakers, THX gaming profiles are also available, carefully tuned equalizers that provide optimal spatial sound for some of the busiest game titles, such as Cyberpunk 2077 or Monster Hunter Rise: Sunbreak and many others that will follow.
For convenient control with a problem-free connection, Razer presents the Razer Control Pod wireless control. Thanks to the volume, click control and source button for easy navigation and intuitive control, it controls settings such as volume, play/pause, equalizer, etc. When connected via Bluetooth, the battery lasts for 8 months and ensures long-lasting performance. The Razer Wireless Control Pod comes with the Nommo V2 Pro and will be available as a separate accessory for the Nommo V2 and Nommo V2 X from August.
The Razer Nommo V2 Pro will be available for ¥449.99

The Razer Nommo V2 will be available for ¥289.99

The Razer Nommo V2X will be available for ¥169.99

The Razer Wireless Controller will be available for $59.99 in August