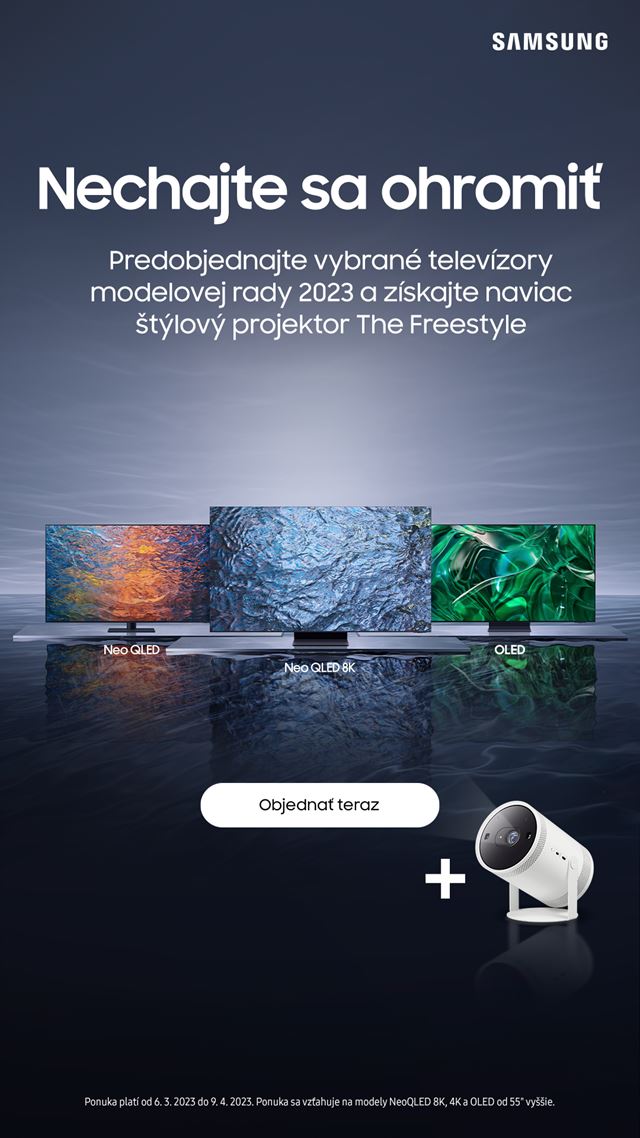 Anyone who pre-orders this year's Neo QLED and OLED TV models from Samsung from Monday, March 6 to Sunday, April 9 will receive The Freestyle mobile projector worth 819 euros as a bonus in the price of the TV. The action of the company Samsung Electronics Czech and Slovak applies to all models of the Neo QLED 8K, Neo QLED 4K and OLED model series 2023 from an angle of 55 and above. For example, when buying a Neo QLED QE55QN85CATXXH TV, the total price, even with a bonus in the form of The Freestyle, will be 50% of the recommended retail price.
These Neo QLED and OLED models fully utilize the power of artificial intelligence. Neo QLED 8K with 64 irregular grids will display all the details, regardless of the input signal. Neo QLED 4 is equipped with the peak Auto HDR Remastering function, which uses artificial intelligence to transfer scenes and effects broadcast with standard dynamic range (SDR) to high dynamic range (HDR) in real time. However, the original SDR content is clear and vivid and perfectly draws the audience into the action, explains Michal Forejt, director of the consumer electronics division at Samsung Electronics Czech and Slovak. In addition to the diagonals of 55 and 65, we are also offering two of the OLED models that we introduced last year with an ultra-large version of 77.
The newest line of OLED TV models is now equipped with Quantum Dot technology, which is a guarantee for the display of accurate and undistorted colors (Pantone certification). Self-illuminating pixels also guarantee maximum control of backlight and contrast. OLED TV models from Samsung have a refresh rate of 144 Hz and, as the first time, they have received AMD FreeSync Premium Pro certification, which guarantees a perfect gaming experience on an OLED screen.
The Freestyle mobile projector is the latest product in the lifestyle line of TVs and projectors from Samsung. It is a portable, powerful and surprisingly simple projector that allows you to project video content, but can also be used for lighting effects as a design lamp or even as a smart TV, because it has the Tizen operating system like all smart TVs from Samsung. You can use it practically anywhere, it works not only when connected to the mains, but also on rechargeable batteries. Thanks to The Freestyle, an image with an unbelievable diagonal and 100 can be displayed on any flat surface.
Pre-sale of selected Neo QLED and OLED TV models of this year's model series with a bonus in the form of The Freestyle mobile projector takes place in Samsung stores, in the samsung.sk e-shop, in Nay, Planeo, Datart, Euronics, Andrea Shop, Play and online stores Alza.sk stores and Mall.sk.