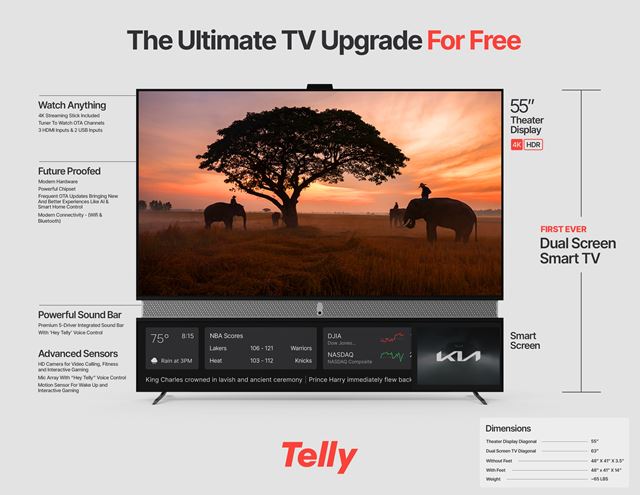 The Pluto TV company distributed a total of 500 thousand Telly televisions. At the same time, it won't be just any TV. It will have exactly two displays. One will be the main 55″ standard for viewing, a kind of Smart Display accessories for information, but mainly advertisements. These will not be placed on the display, but only on the side as a supplement to other information (news, weather, events), or directly across the entire bottom display.At the same time, there will be a soundbar and a camera between the displays.
The bottom display can be turned on even without the main TV, and the company has hundreds of different ways to use it. It works with various companies such as Netflix and Starbucks, and there will also be rewards for surveys and activities.
The TV will have its own TellyOS system without support for streaming applications, but an Android TV dongle will be added to the full system.
The manufacturers say that the added camera will be covered by default, but if you want to use it, you can uncover it and it will be useful for monitoring movement or for communication via Zoom and similar programs. At the same time, Telly comes with 40 different games and can play music from popular music services. It also has an AI-controlled voice assistant.
He had a limitation for us, that the TV will be distributed only in America.