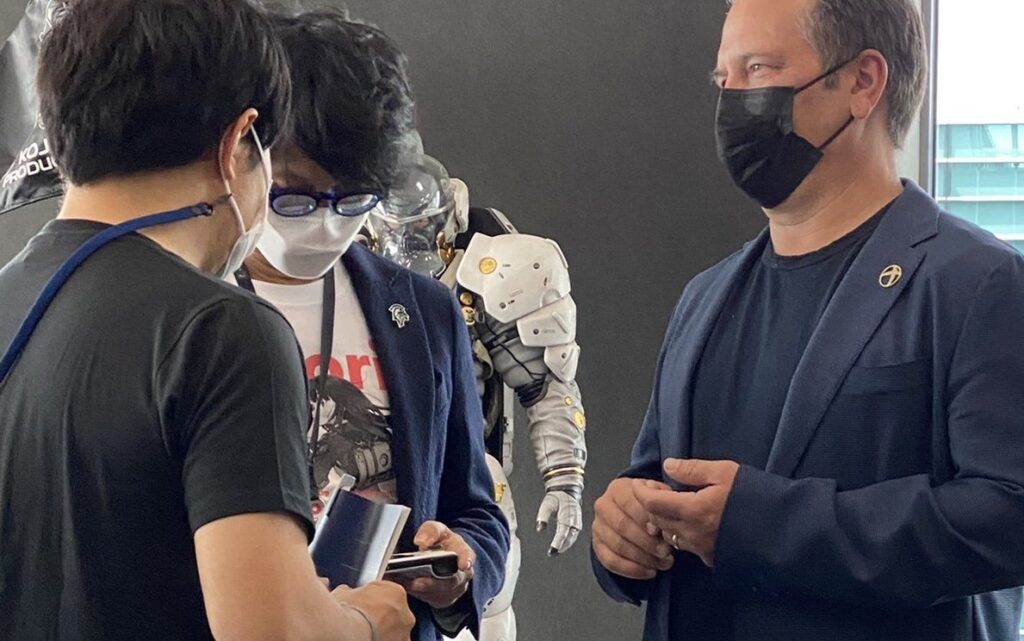 Phil Spencer said he tested the portable device for a month, even in the company of Hideo Kojima.
Phil Spencerthe CEO from Microsoft Gaminghe said he was enthusiastic about the Logitech G Cloudthe new cloud streaming device that was officially announced today.
Phil Spencer also tried it in the company of Hideo Kojima on the occasion of TGS 2022.
Hideo Kojima and Phil Spencer have fun playing on the Logitech G Cloud, a device designed for mobile gaming in the cloud.
Phil Spencer this is how he recounted his experience with Logitech's new mobile device for the cloud:
I've tried the Logitech G Cloud for about a month and it's a great device for streaming games even when I'm away from my console. I appreciate the feeling, the autonomy and also the screen size. I took it with me to Europe and to the Tokyo Game Show and it was a lot of fun to play with, even with the hotel's wi-fi connection.
In the photo we can see how Hideo Kojima also got to play with the Logitech G Cloud. So it comes automatically to think about that cloud-based project by the now well-known Xbox-exclusive game designer.
In this sense we remind you of the words of Kojima during the'Xbox & Bethesda Games Showcase 2022 during the'Xbox & Bethesda Games Showcase 2022 regarding the cloud game project:
There is a game I have always had in mind to create. It is a completely new game, one that no one has ever played or that no one knows about. I waited a long time for that day to arrive, when I would have the chance to create it. Thanks to Microsoft's cloud technology and the ongoing change in the industry, I can now finally challenge myself to bring this never-before-seen concept to life. It may take some time, but I'm looking forward to partnering with Xbox Game Studios.
We also remind you that Logitech G Cloud Gaming Handheld is a portable device created specifically for cloud gaming, consequently allowing gamers to access vast libraries of PC and console games directly in portability thanks to cloud technology, all while enjoying precise game controls, a 1080p HD screen and excellent battery life combined with an elegant and lightweight design. The console is equipped with a Qualcomm Snapdragon 720G and an octa-core CPU up to 2.3GHz.
The portable console Logitech G CLOUD was developed in collaboration with Tencent Games And supports Xbox Game Pass Ultimate and NVIDIA GeForce NOW cloud streaming. Gamers can also stream local games from an Xbox console with the Xbox app, their Steam games via SteamLink, or download remote play apps, video streaming, and more via the Google Play Store.
Logitech G Cloud will be available for purchase in the United States starting from the day of 17 October 2022and "further on in the rest of the world", all at the price of $ 349.99 or a $ 299.99 taking advantage of the pre-order discount.