MultiVersus is Warner Bros. Games' answer to Super Smash Bros.: a platform-brawler with a stellar cast destined to expand practically without limits.
Developer / Publisher: Player First Games / Warner Bros Games Price: Free to Play Location: Texts Multiplayer: Competitive Online PEGI: 12 Available On: PC, Xbox One, Xbox Series X | S, PS4, PS5 Launch date: TBA 2022
Batman and Superman vs Tom and Jerry? Wonder Woman fighting with Bugs Bunny while Harley Quinn and Shaggy look over his shoulder? Everything is possible in the world of MultiVersusthe new platform-brawler of Warner Bros. Games who will clash with the undisputed King of the genre, that Super Smash Bros. who in his various incarnations has crushed all the rivals who have dared to get close to him.
The extra weapons of this new challenger could be the potentially infinite and extremely multifaceted cast, but also the fact that it will be a free-to-play title. We tried it even before the private Beta that is kicking off in these days and we tell you about this first taste of "barrel without quarter".
AN IMPORTANT CHALLENGE FOR MULTIVERSUS
How should a team approach the development of a title that will inevitably collide with one of the most popular and best-selling sagas of all time, which over time has managed to improve itself to become practically perfect? The company is difficult but the first, fundamental step consists in study the competition thoroughly trying to take a cue from its best sides and maybe strengthening the weaker ones… if they exist.
CHALLENGING NINTENDO IS NOT EASY, BUT THE CHOICE OF FREE-TO-PLAY IS A GOOD START
Making your own free-to-play game is already a good start as you will immediately grow your fan base. If you add to that a pantheon of characters capable of rivaling Mario, Link, Donkey Kong and company, then you're on the right track. This is what Warner Bros. Games has done with MultiVersus, entrusting the project to a young but experienced team that proposes in its corporate manifesto three promising diktats: 1) Putting the player at the center of the experience; 2) Create brands that last over time; 3) Create experiences accessible to the widest possible audience. MultiVersus was born on these three pillars, which we have had the opportunity to play in preview just in these days.
A MONSTER (FUTURE) CAST
As we mentioned in the intro, the list of Multiversus characters is virtually endless given the frightening amount of licenses in possession of Warner Bros. For now "only" 13 fighters have been revealed but among them there are already real superstars . The DC carries in the basket Batman, Superman, Harley Quinn And Wonder WomanCartoon Network responds with two pair Finn And Jake (Adventure Time) e Steven And Garnet (Steven Universe) as the hosts come forward with Shaggy of the Scooby Doo gang, Tom And Jerry and the veteran Bugs Bunny.
Multiversus' character list could be virtually endless given the frightening amount of licenses Warner Bros holds
There is also a bizarre Arya Stark from Game of Thrones and RenDog, the only character so far to have been created specifically for the game. Warner Bros Games has already promised regular additions to the roster and has kept their word by just recently showing three other characters: Velma, Taz and the unforgettable Iron Giant. This however could be just the tip of the iceberg, keep in mind that the WB portfolio includes somehow "robina" such as Rick and Morty, The Lord of the Rings, Mortal Kombat, Nightmare, Friday the 13th and all the brands made and distributed by the Entertainment and Pictures divisions. The potential really has no boundaries but from here to creating something really fun and above all balanced it passes.
ALL AGAINST ALL… AGAIN
And we come in fact to the field test, which inevitably immediately aroused powerful familiar sensations, to the flavor of Super Smash Bros. The fairly full-bodied tutorial allows you to become familiar with the main combat mechanics, which as expected are practically identical to those by SSBU. There is no shortage of small variants oriented above all to air combat, but the substance is practically identical as well as the final goal: to raise the counter of the hits received to the opponents to weaken them and then send them out of the arenas. In this regard, in this alpha the variety of the battlefields was not very high: five neutral training rooms, the Batcave, the Wonder Woman arena, the tree house and the haunted house of Scooby Doo complete with a wandering ghost. . In each of them there is no shortage of interactive elements and animated backgroundsbut we are still a long way from the quality offered by the latest Smash Bros.
MultiVersus supports both the classic 1 vs 1 mode and the 2 vs 2 co-op, where two players can enter the arena to give each other a hand and challenge rivals from all over the world. Four players can also compete in the "Free for All" challenge which doesn't need much explanation. Obviously, there is an option to train in order to find out which characters are best suited to your style of play and classified matches complete with a global ranking. The netcode already looks excellent and during our test it outlined a more than encouraging solidity. No lag in commands and fast matchmaking regardless of the platforms involved (the game will support crossplay), but everything will have to be tested later when the number of players will be much greater and their geographical location wider. But who starts well …
WHO STARTS WELL …
The premises for a good game, although very distant from the concept of originality, are all there. It may not succeed in dethroning Super Smash Bros. Ultimate from its pedestal, but However, MultiVersus already seems to be a fairly focused and rather solid title right now. The release is scheduled for an unspecified month of 2022 but we already know that from Day One the cross-save will be supported between the various platforms (PC, Xbox One, Xbox Series X | S, PS4 and PS5) and dedicated servers for to guarantee users, hopefully as many as possible, a gaming experience that is not only satisfying but also solid and fluid.
If we have tickled your curiosity, mark this MultiVersus on the release agenda and if you have managed to sign up for the closed alpha that will end on May 27, give it to us, or wait for next July, the month in which a public beta is scheduled. In both cases, do not miss the opportunity to provide your feedback to the developers which will help make this platform-fighter even more ambitious and fun.
Previous article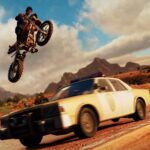 Saints Row: Long look at the gameplay of the reboot