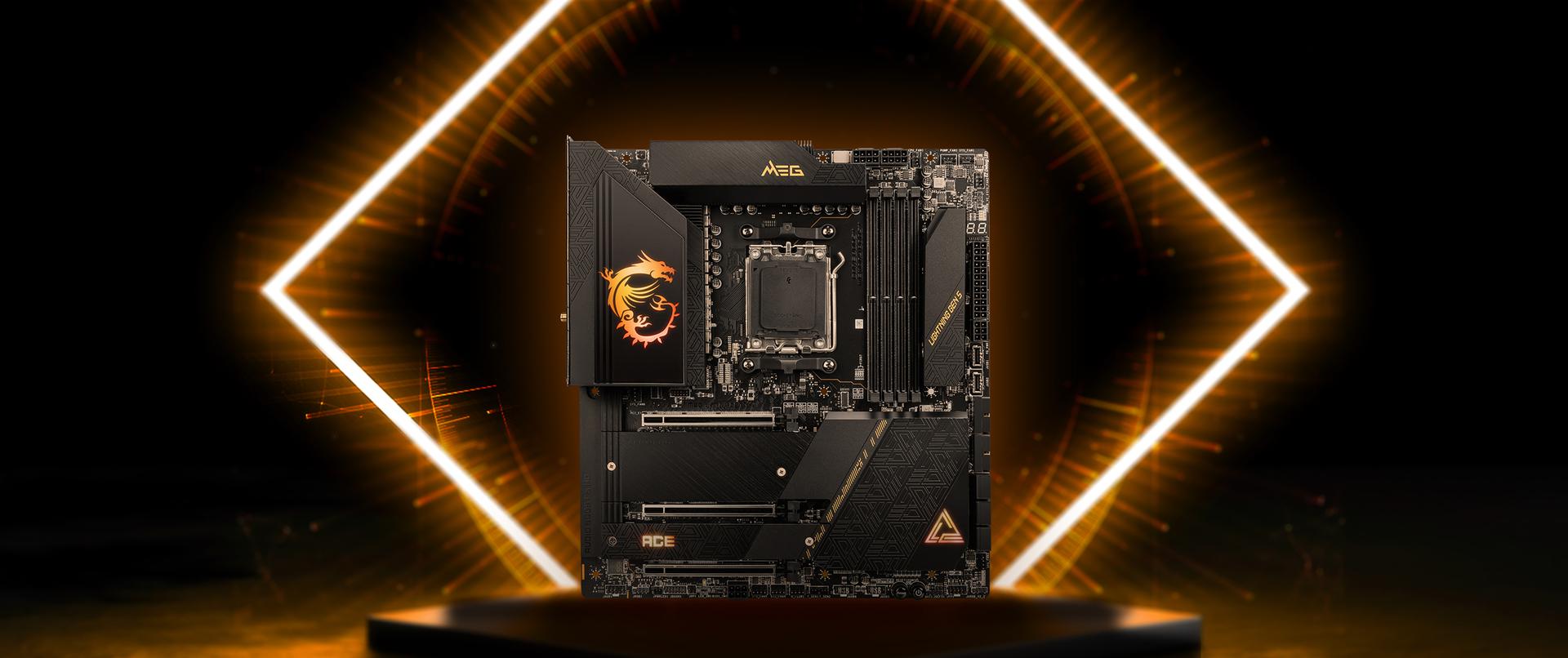 MSI unveiled the new AMD X670 motherboards for AM5 socketready to best support Ryzen 7000 series processors. These are the first to use the processor TSMC 5nm FinFET, as well as introducing a new AMD platform and socket. AMD Ryzen 7000 Series processors bring new features like PCIe 5.0, DDR5 memory support, and more.
The X670 chipset is divided into two segments: X670 Extreme and X670. X670E supports PCIe 5.0 via PCIe slot and M.2 slot, while X670 motherboards support PCIe 5.0 only via M.2 slot. In addition to PCIe 5.0 and DDR5 support, all specifications of MSI X670E and X670 motherboards have been updated, including rear USB Type-C which now supports Display Port 2.0 output. In addition, the front USB 3.2 Gen 2 × 2 Type-C of MEG motherboards will support 60W power delivery.The design of the VRM has also been updated with up to 24 + 2 power phases with Smart Power Stage from 105 A.
The MEG series returns with the new ones MEG X670E GODLIKE and MEG X670E ACE. The MEG series comes in E-ATX format and has up to 24 + 2 VRM stages with 105A Smart Power Stage. Dissipation is ensured by a fin design heat sink and heat pipe to dissipate heat in effectively while maintaining maximum performance. In addition there is also a MOSFET baseplate for greater heat dissipation for the VRM, while the metal backplate helps protect the PCB and maintain rigidity in the board. MEG series motherboards come with up to 4 built-in M.2 slots, including 1 M.2 PCIe 5.0 x4 slot and one M.2 XPANDER-Z GEN5 DUAL add-on card inside the box for 2 PCIe 5.0 x4 Additional M.2 for the ultimate experience.
The MPG series enjoys updates for the new AMD platform. The carbon black design, its features and performance, make the motherboard MPG X670E CARBON WIFI more stable than before. This motherboard has 2 PCIe 5.0 x16 slots and 4 M.2 slots divided into 2 PCIe M.2 5.0 x4 and 2 PCIe 5.0 x4. Comes with 18 + 2 phase VRM power supply with 90A and cooled by extended heatsink design. Just like last generation, there will be a collaboration with EK Water Blocks for a custom monoblock that covers the processor, VRM and M.2 section.
The PRO series is the best choice for companies and creators. With 14 + 2 phase Duet Rail power system and dual 8 pin CPU power connectors, PRO X670-P WIFI will tackle any business with ease. The PRO series is equipped with 1 PCIe 5.0 x4 M.2 slot, 2.5G LAN and 6E Wi-Fi solution. The design makes the PRO series suitable for any work environment.
As for prices and availability, MSI has not yet released details on this, letting it be known that the new motherboards will be launched on the market in the fall.
Previous article

STALKER 2: Heart of Chornobyl, work on the game has resumed