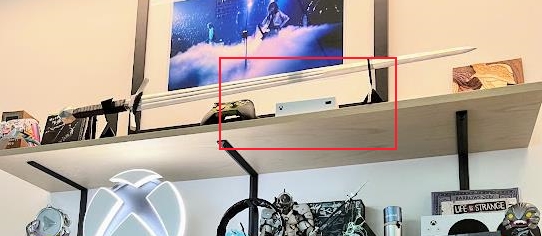 If today Microsoft has not yet released a device for sale
streaming
of Xbox is because the sale price it would have would be too high. This has been stated by Phil Spencer, executive director of Microsoft Gaming, who in an interview with the Decoder podcast has also recalled that the piece of hardware, known internally under the code name Keystone, has not been cancelled, only delayed.
"It was more expensive than we wanted when we built it […]", says Spencer when talking about the Keystone, a device whose prototype appeared not long ago on the shelf in her office. Not being able to reach the target price, the company decided to focus its efforts on the application of streaming for televisions that arrived in the summer from Samsung. What sale price was Microsoft looking for? Spencer doesn't want to give a specific number, but says he expected to ship the device with a controller for between $99 and $129.
A Keystone prototype in Phil Spencer's office.
Spencer argues that that range is the one that makes sense given the rest of Xbox's hardware offering. Microsoft allows you to jump on the bandwagon of the new generation with Xbox Series S, a console that sells for 299.99 euros, so in Spencer's opinion a device of streaming like Keystone it would have to have a "quite significant" price difference. For the most enthusiastic, there is Xbox Series X for 499.99 euros. And lower the price of Keystone without the controller? For Microsoft it was not an option.
Regarding the experience with the device, Spencer explains that it is reminiscent of an Xbox thanks to the interface and reveals that a group of employees took a prototype home where they found that "it worked very, very well." The executive has not renounced putting the device for sale streaming from Xbox, but it doesn't look like this is going to happen anytime soon."[…] I think it's years away," says Spencer.