Exactly one week until the release of Marvel's Midnight Sunsthe next turn-based tactician from Firaxis Games starring the superheroes of the House of Ideas, for this reason the development studio is preparing to a livestream that will precede the launch of the game by a few days.
Firaxis has indeed announced that next November 29 at 19:00 (Italian time) a program dedicated to Marvel's Midnight Suns will be broadcast. What will be the contents of the livestream? No one knows, but the studio promises the broadcast will be special. To follow the event, just tune in to Twitch, YouTube or on game page on Steam.
Marvel's Midnight Suns will be available on December 2 on PC, PS5 and Xbox Series X|S. On PS4, Xbox One and Switch it will arrive next year instead. Read more about the game our latest preview.
Previous article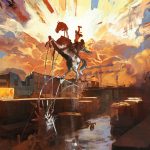 Disco Elysium: New Details of the Legal Battle Emerge