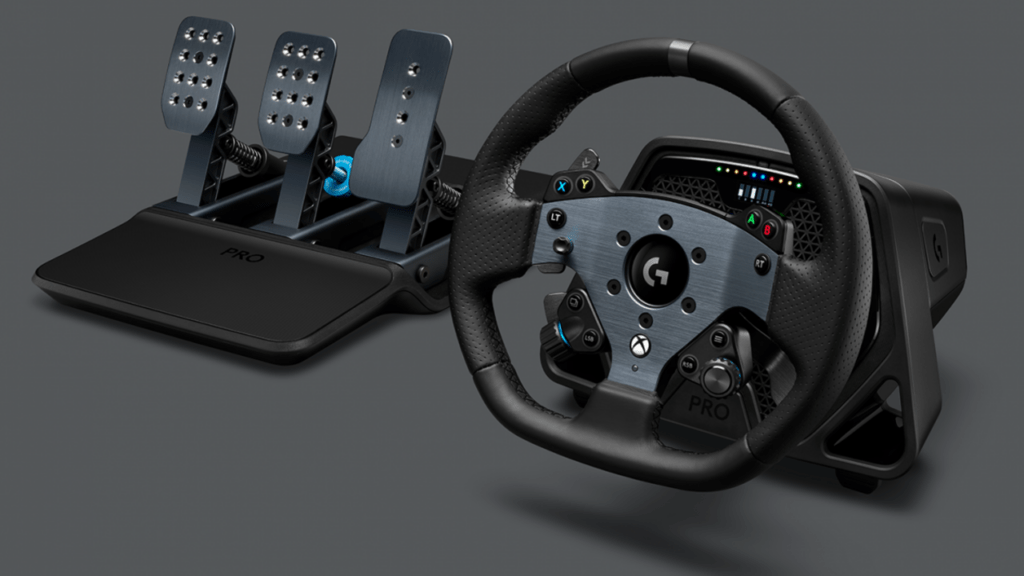 Logitech G today launches the new G PRO Racing set-up and makes available the PRO Racing Wheel and pedal set, PRO Racing Pedal designed for professionals and available for purchase separately
Logitech Gwell-known brand in gaming technologies, has announced its new steering wheel, PRO Racing Wheel and the pedal board, PRO Racing Pedals, a new professional-grade racing set-up designed with the support of professional sim drivers. Logitech G thus expands its offering of gaming equipment.
The system Logitech G has been designed to offer the most realistic and immersive racing experience possible, very similar to that of professional pilots. In particular we emphasize how the PRO Racing Wheel is equipped with a new engine Direct Drive high performance and feedback technology TRUEFORCEto offer a more realistic and engaging racing experience possible, also given by a precise and real connection with the vehicle.
The new Logitech G set-up, which makes the Racing Pro steering wheel and pedal set available. The two gaming tools can be purchased separately and have been designed in collaboration with professional pilots to return a response as realistic as possible
And about it Lando Norrispilot of F1 for McLarencommented:
Logitech's PRO Racing Wheel makes the sim racing experience incredibly realistic. Now I am able to sense the track conditions and the way the car changes during the race, a real game-changing. When I use this wheel at home, I feel like I'm really on the track
Logitech G specifies instead that:
The all-new Direct Drive motor of the PRO Racing Wheel is capable of producing an impressive 11 Newton meters of force with an incredibly low latency response. Paired with TRUEFORCE, Logitech G's proprietary high-definition force feedback technology, the Direct Drive engine delivers unmatched racing realism with higher response rates than ever before. As a result, sim racers can now experience the game's physics and audio with much higher levels of accuracy and near-instant feedback, from road conditions to engine vibrations.
Richard Nevillehead of simulation and controllers for Logitech Gamingon the other hand, he stressed that the new set-up is able to improve realism, performance and control in the simulation phasespecifying that,
We have analyzed every aspect, from the number of gears, revolutions and impacts suffered by an 11-newton-meter wheel, to the materials and components that can withstand even the most difficult racing conditions.
Below we list the details of the PRO Racing Wheelthe new steering wheelthat offers:
Intuitive steering wheel design – The buttons and knobs are positioned so they can be easily reached with your thumbs, so you never have to take your hands off the wheel or your eyes off the road.
Magnetic shift paddles – Designed with a magnetic system that uses contactless hall effect sensors, and additional tactile magnets, to achieve a realistic mechanical feel that accurately simulates a professional racing car, coupled with the durability of millions of gear changes.
Dual Clutch Paddle – The analog paddles offer a perfect tactile response for different functions in the race. When configured with dual clutch, they offer the perfect advantage when starting from the starting grid. Alternative configurations include a handbrake and two additional axles, so riders can program the paddles as gas and brake, offering maximum freedom of control.
Customizable Settings Display – If drivers need different settings for different titles or for different cars within the same title, they can easily configure important steering wheel settings on the fly by saving them in one of five different profiles available.
Quick release assembly – The redesigned mounting system allows riders to easily mount and dismount the steering wheel from the desk, while retaining the standard bolt holes for mounting to a racing seat.
Here are the characteristics of the PRO Racing Pedalsthe new pedal board that includes:
Pressure detection – The pedals register the force exerted by the riders, allowing for improved muscle memory and the perfect amount of braking power.
Customizable pedals – Easily accessible and quick, they allow riders to adjust the sensitivity of all three pedals. The clutch and gas pedals can be stiffer or softer thanks to a set of interchangeable springs, while the brake pedal can be adjusted with a set of elastomers. Both the gas pedal and the clutch pedal also use contactless Hall effect sensors, which ensure their longevity.
Modular design – Each pedal can be moved horizontally to create the perfect spacing for each rider, and the removable pedal modules make customization a breeze.
Intuitive Steering Wheel Design – Buttons and knobs are positioned so you can easily reach them with your thumbs, so you never have to take your hands off the wheel or your eyes off the road.
Both the Logitech G PRO Racing Wheel that the Logitech G PRO Racing Pedals they are available in two versions, one compatible with PC, PlayStation®5 and PlayStation®4 and one compatible with PC, Xbox Series X | S® and Xbox One®.
We remind you that Logitech G PRO Racing Wheel And PRO Racing Pedals will be purchasable on LogitechG.com and at authorized dealers starting from September 2022 at a price (recommended by the manufacturer for sale to the public) of € 1099 (Steering wheel) € 389 (Pedals).