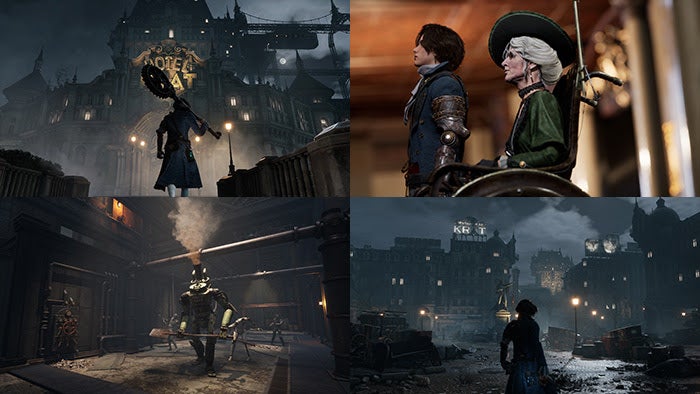 Inspired by the well-known story of Pinocchio, Lies of P is a Dark Souls-style action RPG set in a cruel, dark world inspired by the Belle Époque. As a puppet P, weave through the streets of the devastated city of Krat, craft weapons; from found materialů and communicate with the few remaining inhabitants of the city, who in this hellish landscape; full of unspeakable games of yetě they still live. The more you lie about it, the more human you become – with all the advantages and disadvantages that come with it. Control crucial course choices, use the possibilities of an elaborate system of character development and accompany the main character P on his merciless journey. behind humanity.
After waking up in an abandoned train station in the city; Krat, in the city engulfed in madness and bloodshed, you find only a brief message: "Find Mr. Geppetto. He's here in town." So don't hesitate, start searching for the mysterious person. from the message and step by step deal with everything that blocks your way. Don't wait, someone will help you with your task, and decide; you don't know anyone. Besides, if you are to succeed in your quest to become a hunter, you too will have to learn to lie to others.
A popular fairy tale in a new form: The ageless boy Pinocchio was given a dark, unique treatment in this play. As the mechanical puppet P, finding his way through the ravaged city of Krat, fight relentlessly; for becoming a hunter against all odds.
Visual concept: The city of Krat was inspired by the Belle Époque period of European history of the early 19th and early 20th centuries, and represents a once beautiful place to live, now a place of decay and loss. humanity.
"Tricky" tasks and multiple endings: Get to work on each other; of connected procedural tasksů, theirž The course depends on how much you lie. These decisions of yours will eventually affect how your entire life ends.
Weapon production system: Při productioně combine found materials in many different ways with weapons, find the most suitable combinations by researching and create something unique.
Special Skill System: Jelikož is a Puppet, you have to replace parts of his body and thus gain new skills and maybe even an advantage in fights. But not all improvements are intended for combat – some of them can bring you other unique and useful properties.
Third-person Souls-like action RPG Lies of P will be released in a boxed set; for PlayStation 4, PlayStation 5 and Xbox Series X / Xbox One gaming consoles in August 2023 (and digitally for PC as well), here under the baton of the publisher HYPE.