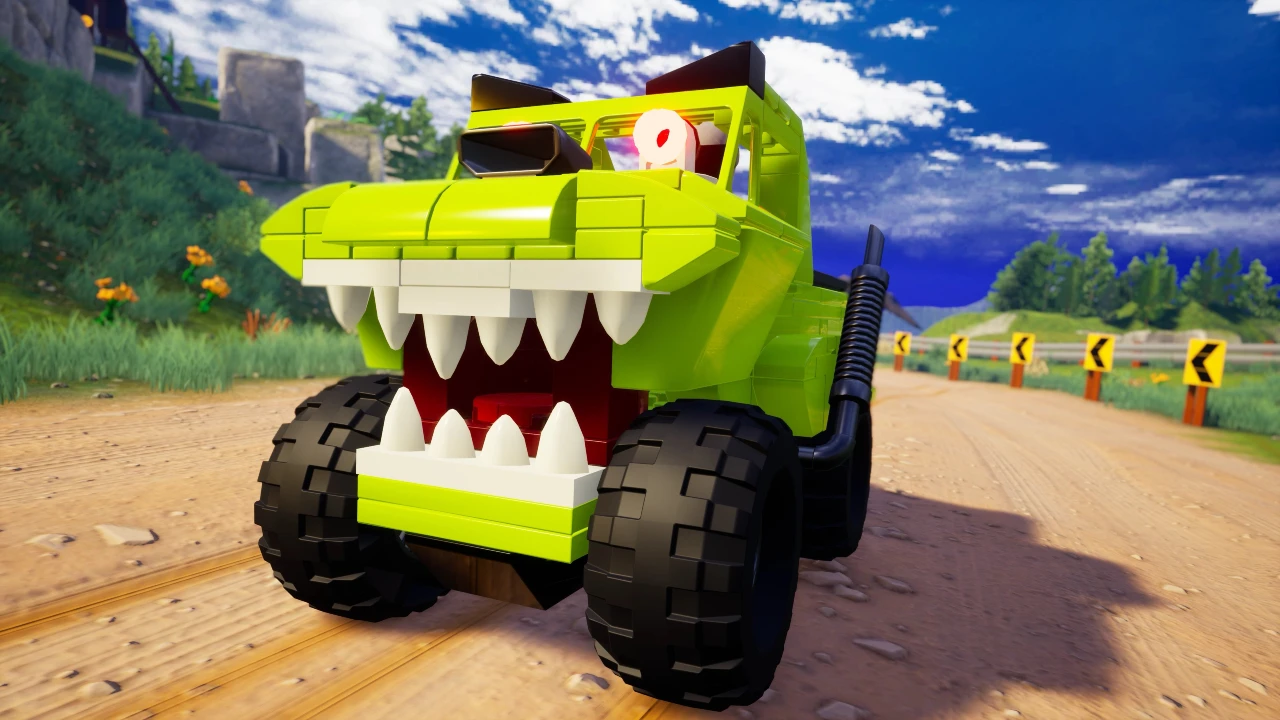 LEGO 2K Drive, a dedicated LEGO racing game, was released a few days ago. What player from Forza Horizon 4 could already experience as a DLC, so there is now finally also a standalone game.
You race through Bricklandia in self-made carts, you can compete against other players in the open world and you have to assert yourself against your rivals if you want to secure the coveted Sky Cup trophy at the end of the campaign. The whole thing sounds like one Mario Kart meets Forza Horizon at. There are different terrains and biomes, but also power ups during the races. Your vehicle automatically adapts to the environment, even if you drive through water. All you have to do is drive yourself.
There are both single and multiplayer modes, but also the possibility to gamble with friends in split screen. According to Creative Director Brian Silva, it weighs a total of around 15 hours of gaming fun.
You can of course build your own cars, who would have expected anything else from LEGO? You can put together your vehicle right from the start from over 1000 components. For the less experienced builders, however, there are also prefabricated vehicles. In the trailer, for example, you can see a burger whizzing around.
Microtransactions cause resentment
But there is also a catch: microtransactions. The publisher 2K Games has built the extremely unpopular option into the in-game shop, in which items can be bought with coins that can be earned, but also items that can only be bought with real money. The real LEGO stumbling block here, however, is that it is LEGO 2K Drive is a full-price title, which is also primarily aimed at a younger audience. Were microtransactions really necessary? The users think: No!
In order to prevent accidental purchases, a 2K account must be available, which must also be verified by the parents in the case of minors, but this is more about the basic principle that microtransactions are wrong and an option at all.
In addition to the microtransactions, there is also the Season Pass, which is subject to a fee, since the game is planned as a live service game. This one is in the awesome edition already included, but what exactly is unlocked by the Drive Pass has not yet been revealed. At this point, we can only speculate about this. You can read more about the DLC timetable and premium passes here.
Microtransactions the big sticking point
The reviews on Steam are therefore, and probably justified, mixed at best. Around half of around 220 reviews at the moment are negative. The most criticized point is, hardly surprising, the microtransactions, especially in combination with a full-price game. A number of users do not see the high price as justified, measured against the currently available content.
In addition to these obvious vulnerabilities, there are currently a few other issues that bother users. A criticized shortcoming is that you cannot start directly with self-made cars in multiplayer races, but that they have to be checked before you can compete with them, while elsewhere the rubber banding of the AI ​​​​is viewed critically.