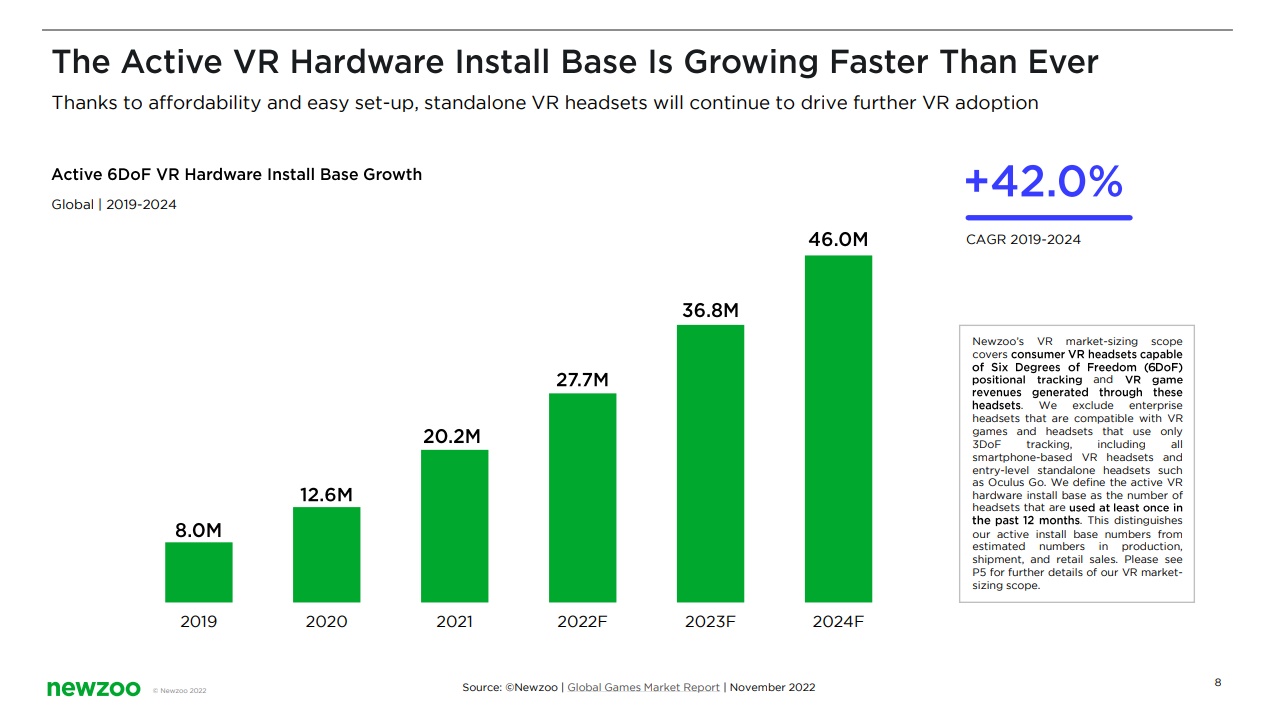 Newzoo, an analysis firm specialized in the video game industry, has published
a report
about the virtual reality market where he talks about the present and the future of the sector. To the delight of enthusiasts of this technology, the figures are positive both in the number of devices and the income generated thanks to games.
By the end of 2022, virtual reality will have an installed base of 27.7 million devices, growing to 36.8 million in 2023 and reaching 46 million in 2024. From 2019 to 2024 the number of virtual reality hardware will have grown by 42%. Newzoo, which only takes into account viewers using 6DOF in its report, says the rise of stand-alone headsets is one of the main reasons for this growth, as options like Meta Quest are easy to use and don't require additional hardware.
Regarding revenue, virtual reality games will end 2022 generating $1.8 billion, compared to $1.4 billion in 2021. For the next two years, 2023 and 2024, Newzoo's projection holds that revenue will rise up to 2,500 and 3,200 million dollars, respectively. If this forecast is true, from 2019 to 2024 the revenue from virtual reality games will have risen by 44%. Add that according to the report playing is the activity that the owners of a VR viewer do the most.
As for the games themselves, Newzoo identifies Half-Life: Alyx as the first high-budget VR title to become a killer app. This is due to its intellectual property, which is widely known among gamers, the immersive experience it offers, and its visual fidelity. Another title highlighted by the report is Puzzling Places.
At the hardware level, the future of virtual reality goes through Meta Quest Pro, an autonomous headset that went on sale less than a month ago for $1,799, and PlayStation VR2, a device that connects with a cable to PlayStation 5 and that will be available on February 22 for 599.99 euros. As for games, we do not see anything similar to Half-Life: Alyx on the horizon for now, but Meta has bought several studios to strengthen its network first-party while Sony will bring the well-known Horizon franchise to virtual reality.