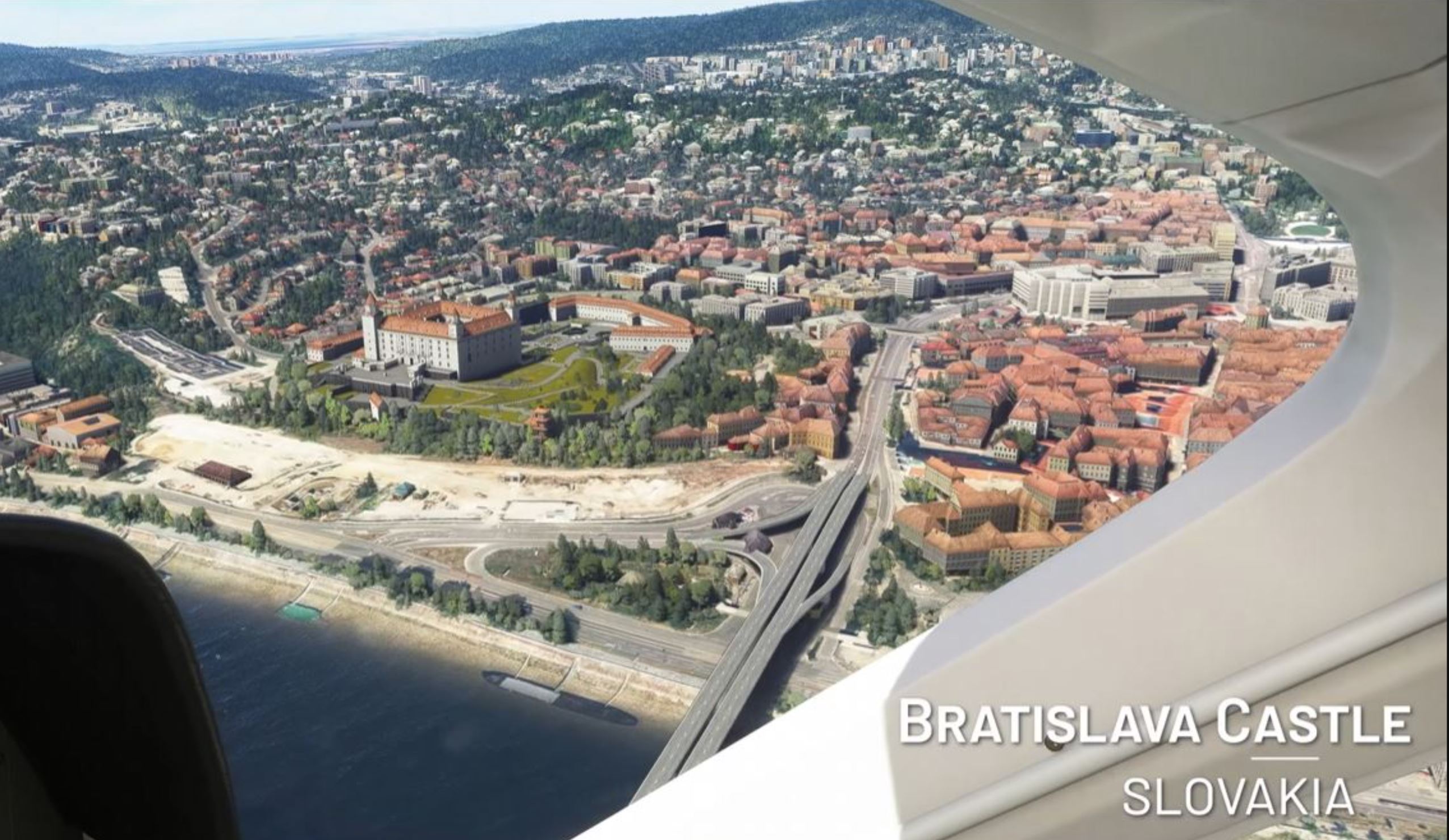 The authors of Flight Sumulator have finally reached our countries and it is in the new Wold Update XIV: Central Eastern Europe, which is currently being released.
In our country, the details of the landscape are improved, so 15 battles of interest are added, Bojnický castle, the Tatras, but also Bratislava castle, Spiš castle, Poprad airport or the calvary in Banská štiavnica were improved. At least this is what the authors pointed out in the video:
The authors say:
Microsoft Flight Simulator World Update XIV: Central Eastern Europe captures the grandeur, charm and glamour:
Czechia

of Slovakia

of Hungary

Slovenia

Croatia

Bosnia and Herzegovina.
The region is full of history, architectural wonders and stunning scenery. The countries of Central and Eastern Europe invite exploration from above with unprecedented fidelity.
Microsoft Flight Simulator gathered fresh, full-coverage aerial imagery, digital elevation data, and other information from our partners at Bing Maps and Maxar to create this update. World Update XIV contains 103 points of interest (POIs):
18 in the Czech Republic

15 in Slovakia

19 in Hungary

15 in Slovenia

23 in Croatia

13 in Bosnia and Herzegovina.
Castles, towers and churches, among other landmarks, are all beautifully reproduced and waiting to be discovered from the air in this update. Microsoft Flight Simulator, in collaboration with Gaya Simulations, created six airports:
Karlovy Vary Airport (LKKV) in the Czech Republic

Poprad-Tatry Airport (LZTT) in Slovakia

Pécs-Pogány Airport (LHPP) in Hungary

Zagorje ob Savi Airport (LJZA) in Slovenia

Rijeka International Airport (LDRI) in Croatia

Prijedor Urije Airport (LQPD) in Bosnia and Herzegovina.
Microsoft Maps & Local in cooperation with Vexcel created 10 cities in the entire region: Prague, Brno and Pilsen in the Czech Republic; Budapest in Hungary; Ljubljana and Maribor in Slovenia; Split and Dubrovnik in Croatia; and Sarajevo and Banja Luka in Bosnia and Herzegovina. Players will be amazed by the endless possibilities for exploration in these urban areas in World Update XIV, all of which are reproduced in stunning photorealistic quality.
To this, the authors add three exploratory flights:
Prague in the Czech Republic

Sarajevo in Bosnia and Herzegovina

Budapest in Hungary.
It also contains three landing prompts:
Croatian Kaštela (LDSP) on Airbus A320neo

Slovenian Zagorje Ob Savi Airfield (LJZA) on Pilatus PC-6/B2-H4 Turbo Porter

Slovak Poprad-Tatry (LZTT) on an Airbus A310-300.
The update also includes four incredible bush trips:
"Czech Way"

"Northeastern Adriatic"

"Danube Road"

"Carpathian road".
World Update XIV: Central Eastern Europe is available today for FREE to all Microsoft Flight Simulator owners. Make sure your simulator is updated to version 1.33.8.0 and download World Update XIV.
Along with it, the Czechoslovak Aero Vodochody Ae-45 and Ae-145 aircraft are also arriving. These are purchasable in the in-game store.