Constructo – Dungeons Builderis a project by Playloop Studios who wants to take the board game into the future by fulfilling the use of online features to play with their friends. The project, now available on Kickstarter, wants to merge the "classic" with the "virtual". Constructo it is not a 3D VTT (Virtual Tabletop) like the others, but in it there will be a myriad of options with which to identify with the adventure, starting from the implementation of the virtual reality. The project is a revolutionary option, especially for those who play tabletop RPGs with their friends. The 3D models, the map editor, the cards for your character already implemented, and the collaboration with HeroForge (a site to create your own miniatures), make this project a glimpse into the future of tabletop RPG.
Constructo – Dungeons Builder, the Italian project that will revolutionize the world of table role players
Playloop Studios is a company founded by Andrea Lupattelli And Simone Percossi, friends, programmers and role players for countless years. Below we leave you an interview, in textual form, that we had the pleasure of doing with one of the founders of the company and the project, Simone Percossi. Before the interview, we leave you access to the Kickstarter from Constructo – Dungeons Builder, clicking here.
-How did the idea of ​​creating this Free 3D VTT come about?
"The idea of ​​creating a new VTT dates back to about 4/5 years ago. Playing assiduously at D&D, we gradually noticed the frequent problems of playing with pen and paper, especially during the fights: fast and horrible drawings, difficulty for the master to make himself understood by the players, difficulty in preparing a fight with physical models, use of miniatures to make up for the lack of those really necessary … in short, a "halfway" experience and a great waste of time!
Then we came up with the idea, to merge "the classic" with "the virtual" and create an augmented reality product that would eliminate these annoying problems! We wanted to create an AR headset product that immersed players in the game world. At the time, the only device noteworthy for its quality and "absence of connecting cables" was Microsoft's Hololens. But who in our group of players would have spent a whopping $ 4,000 to play D&D? At that moment we didn't think about releasing the software to the world, we just needed it to play with each other!
At that point, the only way forward was to abandon the project and so we did.
Years later, with the release on the market of the Oculus Quest 2, which, in addition to being a VR headset, also integrates an AR functionality, the flame of passion is back to burn! It was the perfect, affordable device (you don't have to sell a kidney to buy it). VR and AR together, all wireless, you can sit at the game table without the need to bring a PC with you. Hence the idea of ​​creating a product for everyone, not just for our gaming group. Idea that was then extended to other devices.
The last hurdle to overcome was time. Our full-time job didn't leave us much free time, and getting back to developing after doing it for a full day was exhausting as well as stressful. Furthermore, progress was slow and minimal.
In October 2021, we made the bold decision to quit our well-paid full-time job and dedicate ourselves full-time to the project.
Within two months, the project took off.
In a short time our gaming group, initially skeptical about the fusion of the classic and the technological, was amazed by Constructo. Our non-gamer friends also complimented us, and were impressed with the software. At that moment we knew we were heading in the right direction.
Many things have happened to date, the foundations have been laid for what will be the VTT that we ourselves dream of using at the table, but there is still a lot of work to do. We need other professionals, including programmers, artists, modelers, etc. and to do this we need the necessary funds. Hence the idea of ​​the Kickstarter project.
Thanks to our efforts and above all thanks to the community, which follows and supports us day after day, we sincerely hope to be able to realize our greatest dream. "
-How was the collaboration with Heroforge born?
"As big users of Hero Forge, we had no doubts that being able to partner with them would be of great importance to Constructo, so we decided to contact them. To our surprise, they were super interested in our project right from the start. After a long series of emails and calls, we have signed a contract with them, which currently provides various benefits for our users. Thanks to this collaboration it is possible to connect the Hero Forge account to ours, thus allowing the user to import their own thumbnails with very few clicks. Anyone who connects their Hero Forge account to Constructo will receive 5 fantastic digital assets, to be used immediately on our platform. "
-What features, in addition to those presented, do you have in mind to put into the project?
"We have huge plans for the future, but at the moment we don't want to add meat to the fire. We will focus on making the features already presented perfect for our users. One small step at a time "
-How will importing your character from Heroforge to the project work?
"Importing is very simple, just enter your unique code (token) within Constructo, which can be found on your Hero Forge account. All your creations will automatically be shown on our application, and just one click will be enough to import them into the game "
-When will the implementation of VR be available?
"The implementation for VR is expected starting from the release of the Beta, which will be released in the first quarter of 2023"
– Will the game environment be interactable with the players / pawns?
"Some items will be interactable for players. The available actions will, for example, open a door, or pull a lever. In the future we will implement more complex automations, such as: When the door is opened, a trap will be triggered automatically, and things like this "
-What does the sale of your assets on the marketplace involve? Will there be a fee to pay or will everyone be free to create and sell without paying anything?
"Everyone will be free to share or sell their creations without paying anything. In the case of a sale, we will keep a small percentage for us "
Will dynamic lighting and fog of war be available to everyone?
"Each master will be able to take advantage of these features, regardless of whether he is a premium user or not"
-Will it be possible to implement other role-playing games?
"We will strive to support as many rules as possible, starting with D&D 5E. The ultimate goal, however, is to provide a system to allow each player to create their own rules, and to be able to share / sell them on our marketplace "
-Are you planning to do, or do you have a collaboration with Wizard Of The Coast?
"No, we are not interested in joining their group. We are creating a product that does not want to be limited only to the D&D universe, and a collaboration with them probably would not allow it "
-Will you be able to create more settings in addition to the fantasy one?
"Of course. At the moment we have only shown fantasy material because it is our favorite, and the most used. We are already working to create sci-fi assets, and we intend to expand to many other settings "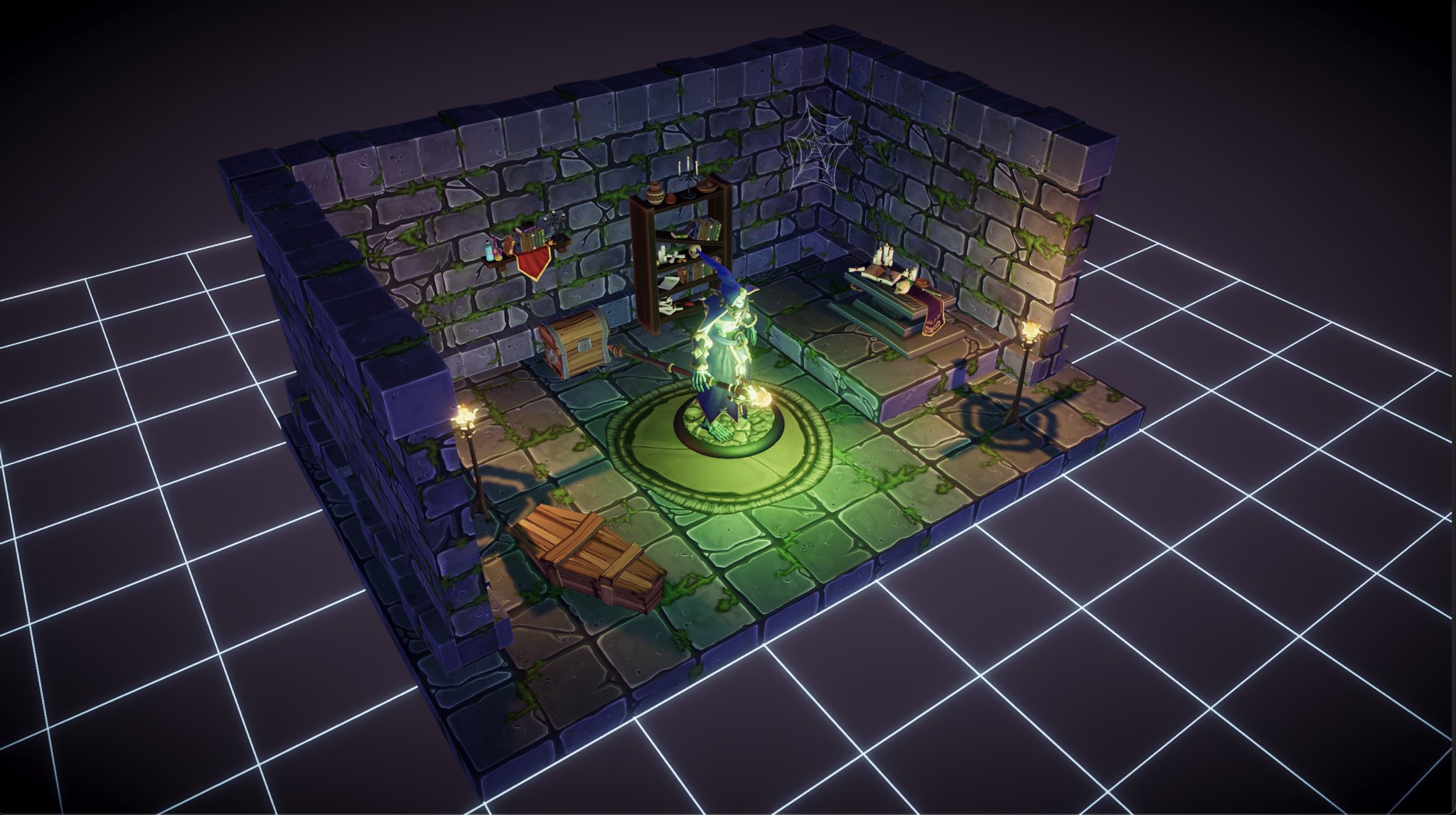 -A few little anecdotes or curiosities about the working of the project?
"The original name of the product was not" Constructo – Dungeons Builder ", but rather" Creatio – Dungeons Builder "
-How many basic assets will be available?
"I can't give you a precise number, as we are expanding the list of assets on a daily basis. We do not want to limit ourselves, we aim to provide as much material as possible to our community in the time to come "
-Do you intend to collaborate in some way with systems similar to roll20, or would you like to become a valid alternative?
"We are creating what will be the VTT of the future for us, and we will do everything possible to become a very valid alternative to all the VTTs currently on the market"
-I know you are a team of friends, how did you meet? And how did your friendship start?
"As you said, we are a group of friends who have known each other for about 20 years now. The two co-founders of Playloop Studios, Andrea and I, have been working together as programmers for almost 10 years, so I would say that our friendship is well established. This is fantastic for us, as we have managed to bring our passion together. "
-We have seen some sort of resemblance to One D&D, the new Wizard Of The Coast project due out in 2024, are you worried about it, or do you think your project is quite different?
"We are not very scared of this possible competitor, as through their VTT you will only be able to play Dungeons & Dragons. Furthermore, most of the D&D community is well aware that OneD & D will be focused on micro-transactions and will be a totally closed system. You will not be able to import your assets, you will not be able to create your own system of rules, which implies many other limitations. I conclude by saying that 2024 is still a long way off. "
-How was starting this project in Italy? Have you found difficulties or are you still finding them?
"We know how bad the Italian system is, and it was no different with us. Long, complex and expensive bureaucracy. No tax breaks, practically non-existent tenders and so on and so forth. As an Italian I'm sorry to say this, but I can't and I don't want to lie to you. Opening a company in Italy is a horrible experience. "
-How often do you plan to update the game after launch? And for how long?
"When we decided to start working on Constructo, we sat down, we have already thrown away a whole series of ideas and we have gradually refined them. However, from the start, it was clear that Constructo was a creature to be grown over time, little by little. We plan to develop it for at least the next 5 years, but we hope to continue for much longer! Regarding the frequency of releases, it's a bit early to say, but let's venture once a month, net of any critical bugs. "
– Will you hire translators for versions in other languages?
"Of course! We are developing Constructo following the philosophy of "the simpler, the better", so few texts, many icons. Nonetheless, there will necessarily be texts, and we want to localize them in multiple languages. We will start with English and Italian, then expand to French, Spanish, etc.
-Do you already have an estimate of the system requirements for the various platforms?
"Not yet. Constructo is in the alpha stage of development. It has not yet reached an optimization and cleaning phase, so we cannot give detailed information on this. We can say, however, that it will have to run on smartphones and VR viewers, such as Meta's Quest 2, so don't expect who knows what requirements at launch! "
-Do you have any other projects you want to develop or will you focus more on Constructo?
"Well, we have many, many ideas! However, Constructo currently occupies all of our current plans, and those in the medium term. If things go well, as we hope, we will be able to expand the team and maybe who knows, dedicate ourselves to more projects at the same time! "
Thanks Andrea Alfonsi – Paolo Alfonsi and Luca Santini for the creation and drafting of the article.