They return for their second edition UZ Awardsan event founded by the director, screenwriter and game designer Chris Darril (Remothered, Bye Sweet Carole) which will once again take place within the frame of the Etna Comics. This award is dedicated to cross-media, including in its categories video games, but also films, TV series and animation, and involving guests from all over the world. The 2022 edition will see the participation of the Oscar nominee Matt Dillon and the director Gabriele Mainetti (They called him Jeeg Robot, Freaks Out), and a jury that will involve experts in the specialized press (including The Games Machine) and industry professionals, coordinated by jury president Chris Darrill.
Below, you can find the list of nominations for the UZ Awards 2022. The event will be held next June 4thwhen the winners in the respective categories will be revealed.
Best video game
Returnal
It Takes Two
Deathloop
Ratchet & Clank: Rift Apart
Best Picture
Freaks Out
Diabolik
Masculine singular
It was the hand of God
Here I laugh
Best Tv Series / Show
Nudes
Astrological guide for broken hearts
Dominates
The hunter
Drag Race Italy
Best Achievement in Directing
Gabriele Mainetti (Freaks Out)
Manetti Bros (Diabolik)
Paolo Sorrentino (It was God's hand)
Jonas Poher Rasmussen (Flee)
Josef Fares (It Takes Two)
Best Achievement in Writing
Gabriele Mainetti, Nicola Guaglianone (Freaks Out)
Jonas Poher Rasmussen, Amin (Flee)
Soni Jorgensen, Josef Fares (It Takes Two)
Alessandro Guida, Matteo Pilato, Giuseppe Paternò Raddusa (Male singular)
Paolo Sorrentino (It was the hand of God)
Best Performance in a Motion Picture
Eduardo Scarpetta (Here I laugh)
Giancarlo Commare (Male singular)
Aurora Giovinazzo (Freaks Out)
Matilde Gioli (That's okay)
Toni Servillo (Here I laugh)
Best Performance in a TV Series
Kasia Smutniak (Domina)
Michele Rosiello (Astrological Guide for Broken Hearts)
Nicolas Maupas (Nudes)
Francesco Montanari (The hunter)
Best High Social Impact Entertainment
Drag Race Italy
Flee
It Takes Two
Masculine singular
The UZ Awards also include a series of Special Awards, which will be delivered during the ceremony on 4 June. On this occasion, the winner of the Best Cross-Media Artist category will also be named.
Icon Awards: Matt Dillon
Honorary Award: Enrico Vanzina
Best Original Soundtrack: Joseph Bishara (Malignant)
Best Documentary Feature: Ennio
The UZ Awards nominations are closed by the additional categoriesthe winners of which will be revealed online following the ceremony on June 4th.
Best Indie Production
Game of the Year
Kena: Bridge of Spirits
Loop Hero
Flee
That's okay
Best Visual Design
Luca
Flee
It Takes Two
Arcane: League of Legends
Best Performance in an Animation or a Videogame
Maggie Robertsone (Resident Evil Village)
Valerio Mastandrea (Tear Along the Edges)
Ella Purnell (Arcane)
John Leguizamo (Encanto)
Best Animation
Luca
Arcane: League of Legends
Flee
The Mitchell Vs. The Machines
Previous article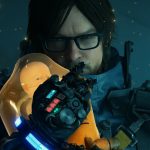 Death Stranding 2 is in development, confirmation from Norman Reedus