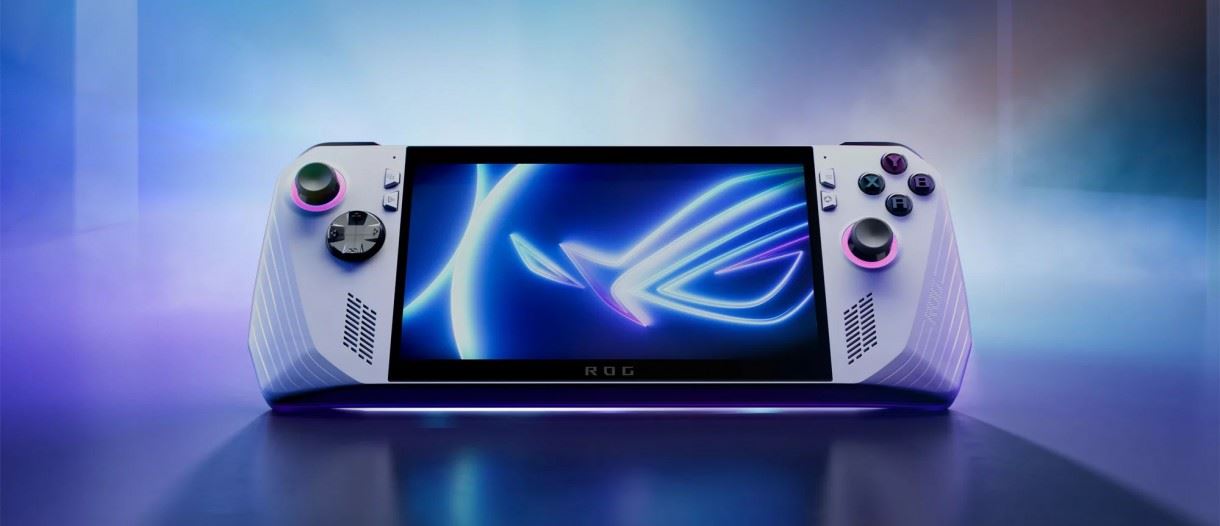 What is the construction?
The handheld comes in white, with the base being a 7-inch display surrounded by controllers in an Xbox-style configuration. In addition, RGB backlighting is added under both joysticks and at the back. In terms of design, it's a nice piece overall, at the same time it's not as big as the Steamdeck, but not as brash as the Switch lite.
From the buttons themselves, it has almost the complete equipment of an Xbox gamepad, i.e. two joysticks, a d-pad, a, b, x, y buttons and also four rear buttons. There are two additional buttons on the bottom that you can configure. The only thing missing is the main Xbox button. However, they are around the display menu a options buttons and two special Asus buttons below them. What's positive is that you can redefine each one and add a long press option to it. Plus ROG has predefined different combinations of buttons to quickly invoke certain functions, such as showing the desktop, task manager, creating images from the game.
In addition to this button control, it is, of course, complemented by a touch screen display. The latter is 7-inch, has 1080p resolution and 120Hz, so expect smoothness and sharpness. Maybe it's a shame that it's LCD and not OLED. However, the image is still decent and problem-free. It has over 100% of the sRGB spectrum and the colors are of such high quality. At least inside. Outside in bright light the 500 nit maximum won't be suitable (Steamdeck has 200 nits), if it's cloudy it shouldn't be a problem. Consider this if you plan to play somewhere on the beach.
As for the ports, they are all located on the top edge, where there is a 3.5 mm headset jack, but also USB-C for charging and connecting to external devices. USB-C is also part of the ROG Xg port. In principle, this is not a problem, but perhaps the ports could be better designed on the bottom edge, so that, for example, the cable does not stick up when you are charging.
Here, however, it is interesting that Asus has added its ROG Xg port, which you can use to connect external graphics to the handheld. That is, his ROG external graphics, which he has available for laptops. For example, he has now added the RTX 4090 to the offer. When you are at home, you can turn your handheld into a home desktop. You connect graphics, connect to a monitor and you can use it as a full-fledged PC by default. You can also connect it to a TV and play with a gamepad.
From the buttons, the power button with a fingerprint sensor completes the whole thing, so that you don't have to log in, and there are also volume buttons. An SD card slot is also added, which will be convenient if you have a lot of games. Two fans are added below the ports to draw heat away from the processor. You can expect the handheld to get pretty hot during this part. On the other hand, you don't touch this place by default, and Asus has designed it well so that you only hold it in places that don't heat up. At the same time, it holds very well and is not too heavy.
What does it offer in terms of hardware?
As for the internals, Asus took advantage of its notebook experience and was able to combine both a powerful processor and powerful cooling in a slim design. More precisely, he took a brand new one AMD Ryzen 7 7840U, which we don't know if he modified it or just renamed it, but here it is called Ryzen Z1 Extreme. The important thing is that it has 8 cores with multithreading and adds 12 graphics cores with the mentioned 8.6Tflops performance. That's so much power in a small chip and thin body. Therefore, they used silent miniature fans and something they called "anti-gravity heat pipes". It is a vapor chamber with a system of water pipes that are designed to work in different positions and still cool the processor sufficiently.
The mentioned 16 GB of memory is DDR5 6400 Mhz, i.e. fast memory and it would eventually be enough for basic running. You just have to take into account that it is an APU, and therefore the graphics does not have its own memory and takes it from this one. Specifically, in the basic setting, the memory is divided into 11.7GB for the system and approximately 4GB for graphics. But you can set the GPU memory from 1GB to 8GB, or leave it on automatic. It's enough for today, since you don't play games here at the highest settings anyway, but it would be good to have a bigger reserve. We will see if Asus will gradually bring a 32 GB version.
As for the SSD space, it is relatively sufficient. 512 GB is enough for the base and you can also fit a series of games there, although a 1TB option wouldn't be a bad option here either. The internal disk has a nice speed of 4293 Mb/s for reading and 1826 Mb/s for writing. Although after a certain time when writing, it drops to 70MB/s. However, you only notice this during long copying. During normal gameplay, there will be no noticeable slowdown. By the way, you can replace the SSD yourself if you want to disassemble the handheld. There is a standard small M.2 SSD. However, if you would rather not disassemble the handheld, you can expand the space with an SD card, where 1TB cards are relatively cheap today and cost around 100 euros. Just expect speeds of around 100-200MB/s there.
In principle, the whole performance will offer the performance of a lower notebook with basic GTX 1650 graphics, although it depends on what parameters. It is more powerful than Steamdeck, about twice the single core CPU power and three times the multicore. In games, the graphics are about 40% more powerful.