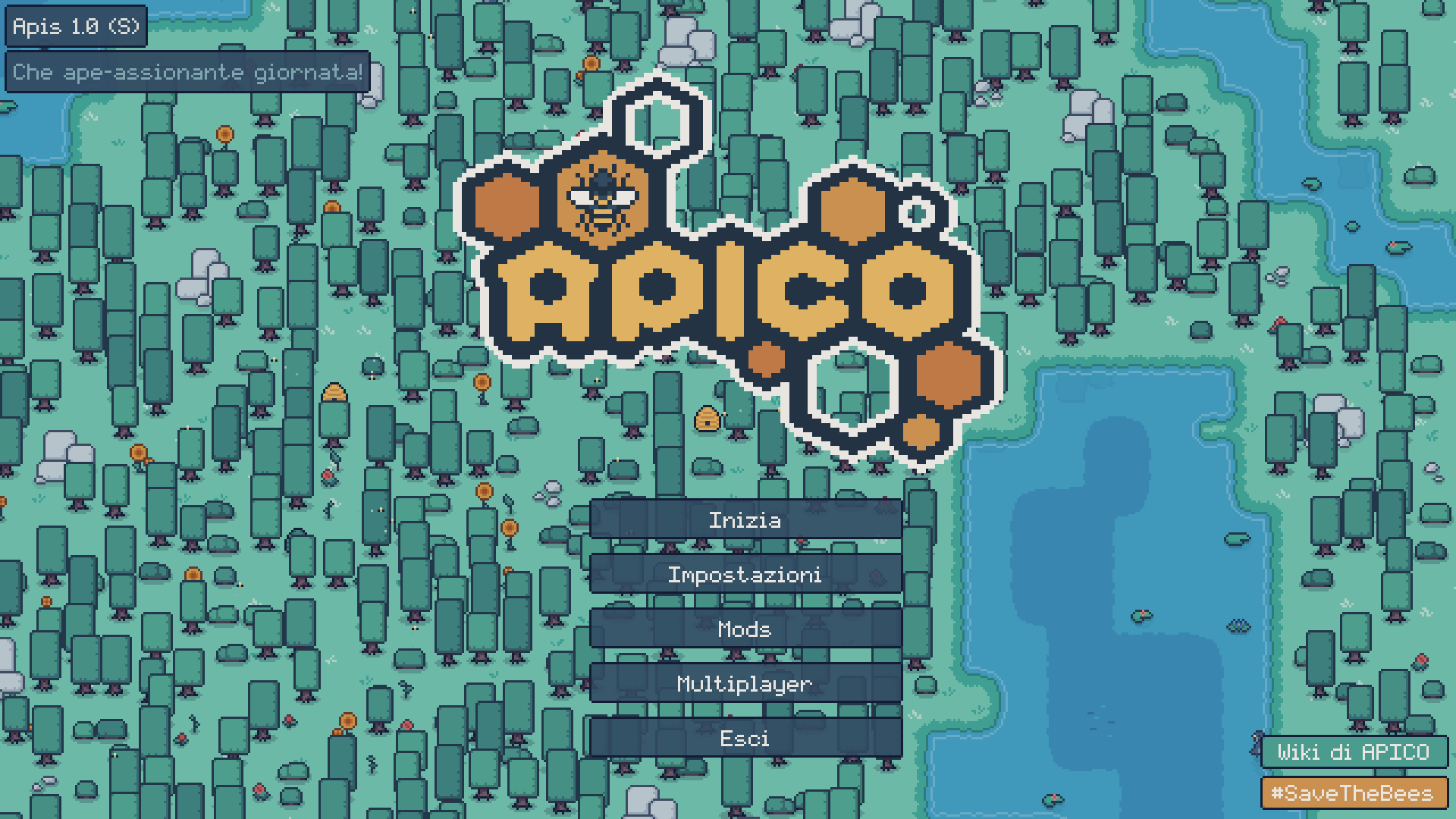 APICO it's finally out and I can talk to you about it in the round; it is a beekeeping simulator that will show you the most hidden secrets of this world. This is not just a video game, but something that will affect our lives; planet Earth is not experiencing a good historical period, much less knowing that bees are slowly dying. And, if unfortunately they died out, we would not only have a loss of honey: we would all die. A very serious fact and it is very important to raise awareness on the subject, for example by creating a video game suitable for everyone.
And how can APICO affect the safeguarding of small workers with wings? Much of the proceeds will go to charities that deal with the protection of bees in the area. Developed by TNgineer and published thanks to Whitethorn GamesAPICO is available on Steam from May 20th: the World Bee Day. This team has created a real social network thanks to the hashtag #SaveTheBees and invite users not only to share this phenomenon online, but also to contribute by making a small donation to the associations dedicated to the project.
On their official website, in fact, you will find many profiles you could join or, simply, to share.
APICO is completely in Italian
Opening the game you immediately notice this graphics created in 2D and extremely colorful, pleasant, so as to create a nice sense of tranquility. Indeed, APICO proclaims itself to be a frenzy-free game and is in line with what was promised. You will notice right away that the title appears to be in English, but just go to the options for have it completely in Italian. This makes it automatically accessible to all, without language or age barriers. Because yes, APICO has a lot to give to both the 10-year-old and the over 90-year-old player. Obviously, at stake, you will not be able to choose the age of the character.
You are immediately asked which of the proposed characters you would like to play and once you have entered the name you will immediately understand your role: the wonderful grandson of a family of beekeepers. To your father, this world, has never been one of his primary thoughts and your grandmother was hoping so much to see you again. Port APICO to follow in the footsteps of a new generation of workers. You escape the city, too narrow for your taste, and finally arrive at the place designated by history. Here you will have the opportunity to meet various characters, such as the grandmother and the captain of the vessel that got you there. There are also others, but they do not have such an important role in this adventure.
Some will have the function of selling, others of advisors and you will always find them in their place on the map; you will quickly discover that the latter is huge and you will expand it as you progress in this beekeeping simulator. Scattered around the place you will find: lots of trees, small houses, workbenches, flowers and wild beehives. You will immediately understand that you can interact with everything inside APICO, using the right tools, and that not even water can stop you.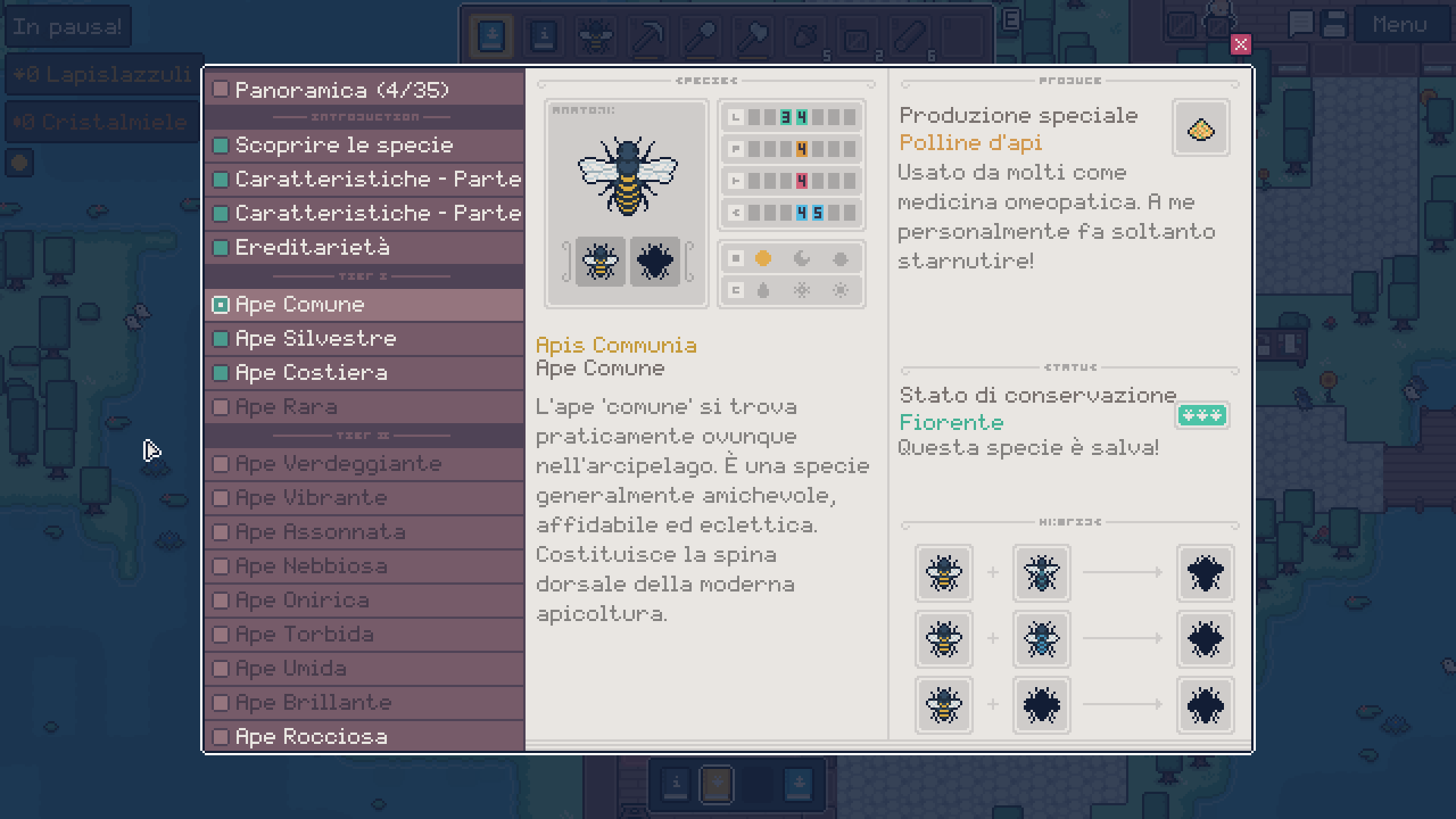 Visible, intuitive and always available tutorial by pressing G
Not sure which way to turn to start your beekeeping adventure? No problem, why in APICO you have an intuitive tutorial available and extremely useful; the collection of information is nothing more than a large tome left by the grandfather, not only able to better explain the actions and activities to be done in a written, but also visual way. Each chapter of the tome equates to a reward for the player and I strongly advise to finish the steps requested by the great book. An action may not always be considered easy and you may find yourself wondering what to do in certain situations.
An example could be the hive that you will have to deal with as time passes or the construction of various objects or buildings. Everything in its time and the APICO developers have managed to make this tutorial really efficient. Not only that, because together with this huge guide you will have an encyclopedia of bees at your disposal, which will fill up as soon as you find some new species. Let's talk about races that do not exist in reality, but which create dynamism and longevity to the title. Finding new bees isn't difficult; you could break a few stones or cross various insects to give birth to something new and unexpected.
Each element in APICO acts as a material that can be used and exploited. Would you like to paint the floor of the newly built house? No problem – you'll just need some flowers and a few more natural ingredient to be able to create the desired color. Nothing could be easier and after a while the actions will be almost automatic, entering the mentality of the game. What you collect will simply become a making element part of the inventory and you will have to manage it to avoid resources scattered on the map, impossible to collect.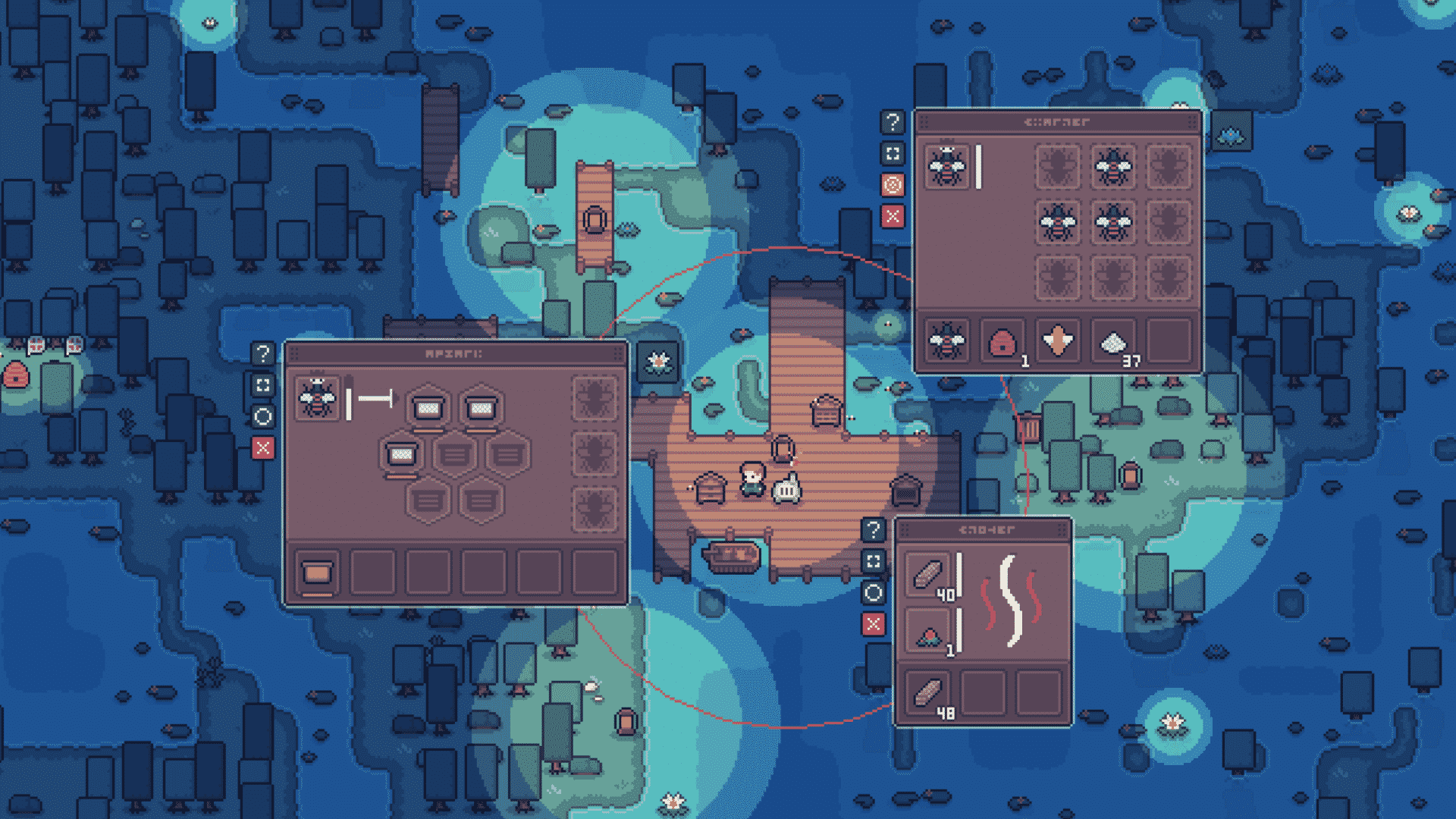 Days go by and the user will get better and better
Personally, I found the perfect inventory management, also thanks to the construction of some crates able to collect different elements that, at that precise moment, maybe we do not need. Not only that, because the resources you are given immediately play a very important part; at the dock you will find crates to be used immediately as a warehouse for the various materials or you may decide to demolish them for more wooden planks. In short, APICO immediately asks you to destroy the place – with all the necessary delicacy, of course – to make it the place of a worthy beekeeper.
The bee farming system is quite easy, you won't have to do who knows what feats to be able to give a perfect habitat to small workers. And you will immediately understand how great the good produced around your character is, as the bees will thank you by going from flower to flower and making small hearts appear on the map. They won't give you anything in terms of physical rewards, but so much gratitude. In the construction system, however, I found a small inaccuracy on the leveling system of the boards to be cut.
These boards are obtained from wood recovered from trees; obviously you can't cut down a tree and magically have the finished product cut in a linear fashion. You will need a workbench and the gameplay system provides for a leveling done by the user, which involves swiping a small dot left and right to complete a straight path. Well, even if you keep the mouse pointer precise, it won't move in case of too much speed of execution and will always remain a few millimeters upon completion of the activity.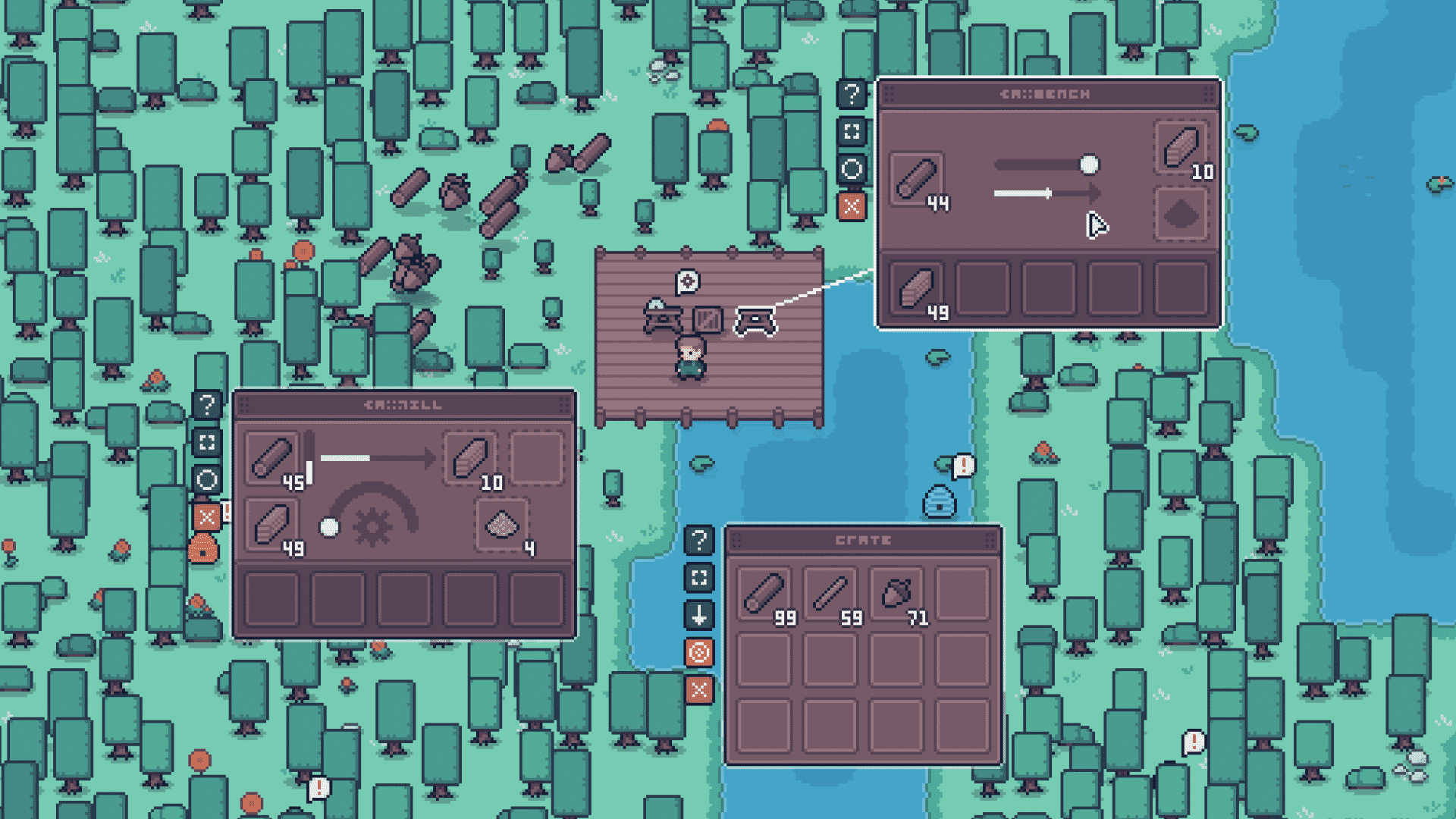 A big hug to the community
APICO is a title single player, but it is also possible to have a small online counterpart. Thanks to a friend code you can try the game up to four users simultaneously, visiting the APICO ports of others. Not only that, because developers strongly believe in the community and have made MODs available created by those who played the game. Just go to the appropriate section of the menu and download the creation you like best. APICO seems to be not only a beekeeping simulator, but a real web phenomenon. And, apart from a few wrong translations, I didn't find any major flaws.
Indeed, to tell the truth I only found those mentioned; the game goes on well, obviously if the user will perform all the steps required by the book, and there are no pause times. Although at the beginning you could read that this is not a frenetic video gameor, there is no shortage of activities and one must always be driven on something. The only things to which time has an active influence are bees, hives and nature that grows and becomes luxuriant becoming a new material to use. If you want to destroy a tree or a chest, just hold down the left mouse button and in a couple of seconds the game is done. The developers also recommend trying the above directly with the free DEMOpresent on Steam. To be able to play it you must meet the following minimum requirements:
Operating system: Windows 7;
Processor: Intel Core i5 (4th generation);
Memory: 4 MB of RAM;
Video Card: Integrated Intel HD;
Dedicated memory: 250 MB of available space.