In a videogame world that is increasingly avant-garde and increasingly technologically in step with the times, developers are able to give their best by managing to produce content that, up to a decade ago, we would have thought unattainable: graphics at the limit photorealism, concrete interaction, deep plots and game quality are the pillars on which the main characteristics of almost every triple A title that we can find on the shelves today are based.
The fun, however, can only be the result of such an arduous and demanding job, or you can also have fun with simpler products, without too many pretensions that in one way or another offer not only a different videogame experience but at times even more pleasant?
Among the most loved genres, going back in time for just a moment, you can find it Shoot em 'up, a very frenetic type of game that bases its foundations on the speed and skill of the player. A genre that has essentially acclaimed a past videogame period made up of emotions and lots of fun.
Today this genre of titles is revived mostly by budding developers or by those who have already been in the environment for some time and try to express their qualities by offering the public something new and captivating, just like Rick Hendersona little Shoot em 'up by Eastasiasoft and Fat Pug Studio. A title that I had the pleasure of playing on Nintendo Switch, including spaceships, missiles, enemies, meteorites … and some small technical flaws that could have been improved during development.
Rick Henderson: Traveling through numerous missiles and enemies in open space!
Rick Henderson is an old-fashioned Shoot em 'up created and developed by Eastasiasoft and Fat Pug Studio. The peculiarity of the title is one nice 16-bit graphics. Rick Henderson is unassuming – it's a very smooth, easy-to-play title that promises hours of old-fashioned fun.
At the start of the game, after a long loading, you will be immediately projected on the main game screen, where there will be four items:
Start game;
Scores;
Achievements;
Options.
Once you have set the settings according to your parameters and preferences and have selected the most popular language (absent the Italian), it will be time to start a new game. Once the Start Game item is selected, four other items will appear, which are none other than the various game modes:
Standard Endless Mode, the classic game mode on normal difficulty;
Hard Endless Mode, the classic hard difficulty game mode;
Boss Raid Mode, a game mode in which only bosses will be faced;
Tutorial.
The spaceship is finally ready: off to an endless space battle!
Once you have selected the Tutorial item, you will be immediately transported to the battlefield, guided by lines of dialogue that explain in a fairly exhaustive way all the various features and features that make up the gameplay. Among so many upgrades, types of shots and aliens to face, the challenge can finally begin.
Once you have chosen your favorite game mode, you will immediately go into action. Once in the game you will realize that it is spawn of enemies will be perfectly balanced and well balanced, ideal. There will be no real invasive hordes as in some such title one might expect, but on the contrary the enemies will be distributed in a very fair and just way, giving the player the possibility of being able to proceed without resorting to the use of particular movements on the joycon.
The tutorial explains how you can fire 3 types of shots from your spaceship, each of which will have more or less effect on a certain category of enemies. All the buttons on the joycons will be fully exploitedleaving no "dead" space.
Although this peculiarity might seem technically valid, it will instead be almost prohibitive, especially in chaotic and frenetic situations: with each different button of the right joycon you can fire a different beam, from missiles to dispersive laser beams. All these types could create an obvious confusion between the controlsrisking to fire the wrong shots that could cause you to lose essential life bars, even in strategically very simple points to deal with.
Once this defect has been overcome, it will be necessary to do some warm-up matches to get carried away with the commandswhich will be not too ergonomic, but certainly not bad, something you can absolutely get used to even in the short-medium term.
Graphically smooth and pleasant!
Playing Rick Henderson, both in portable mode and on TV, will be extremely enjoyable thanks to the graphics introduced and the colors used. Everything will flow very smoothly on the screen, without lag of any kind and without the slightest graphic defect. The enemies will bring themselves within the player's field of vision in various ways: raining from the sky, following certain well-defined movements, lining up in formation and so on and so forth, in a real 16-bit show.
Eastasiasoft and Fat Pug Studio have created a title that certainly makes it under the graphics sectorgiving gamers who love the genre a product that can be fresh but with that typical 80's aftertaste, in an adrenaline-fueled and action-packed atmosphere like what can be a space war field.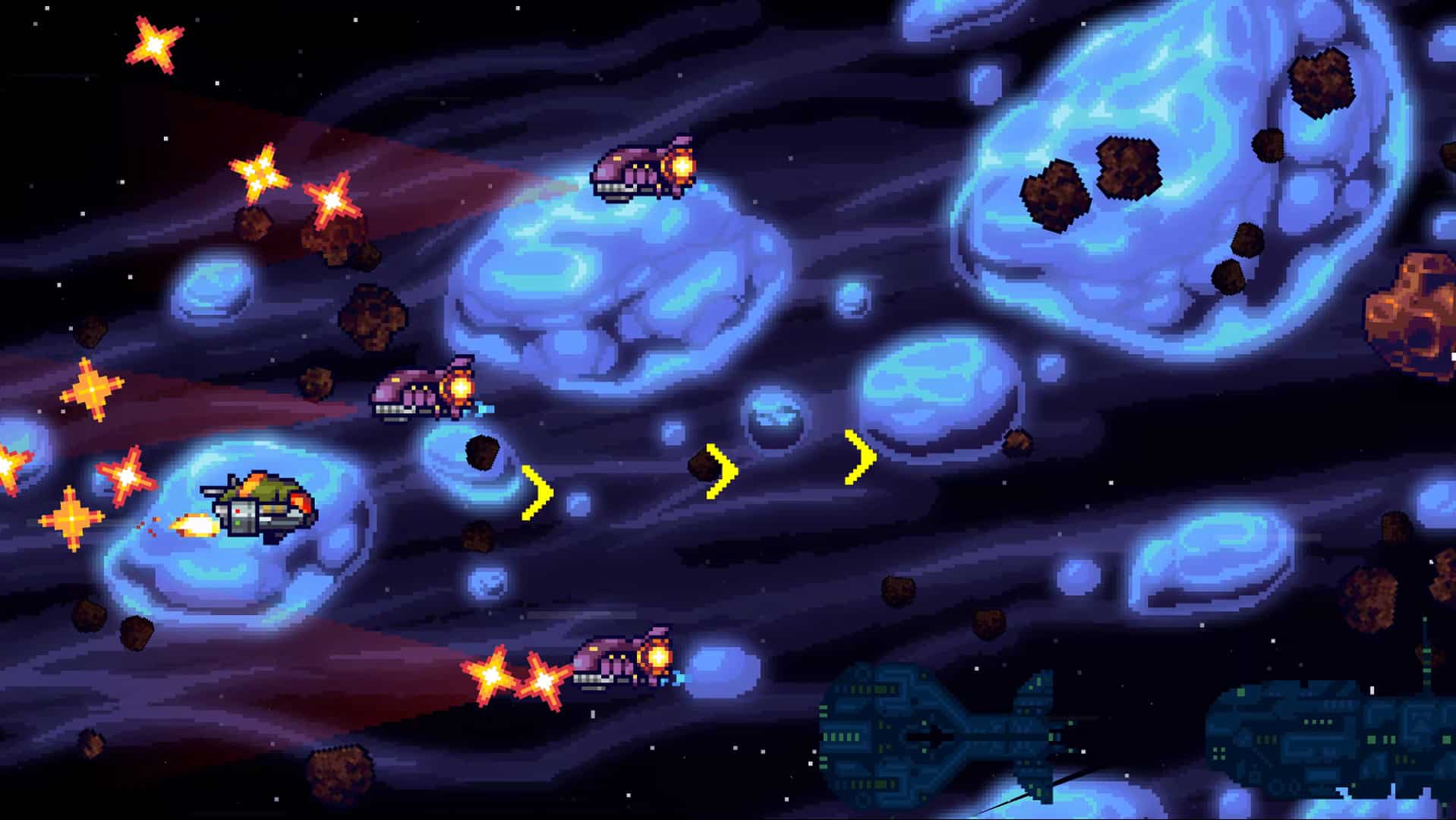 A lot of action and a lot of waiting: excessively long and sometimes unnerving loads
What you will immediately notice, as soon as you start the game, is the excessive waiting time for uploads. Trying to clear the Nintendo Switch cache the result will always be the same, even gaining memory space and uninstalling various games and applications, including some very heavy ones. These rather strange excessive waiting times tend to make you think of some kind of lag or some technical error in development.
Rick Henderson, a 16-bit spaceship that will entertain everyone!
Rick Henderson is a title that undoubtedly promises hours of fun, succeeding thanks to its old-style graphics that, coordinated with this genre of games, create a perfect combination, a combination that never tires when combined with the frenzy of the genre. After the Italian Shoot em 'up Remote LifeRick Henderson seems to want to take the reins of the genre: action and technique in a clean and captivating spatial context, albeit slightly confusing thanks to the not-too-comfortable game controls. Rick Henderson is available on Microsoft Store, PlayStation Store, Nintendo eShop And Steam at the price of € 7.99.