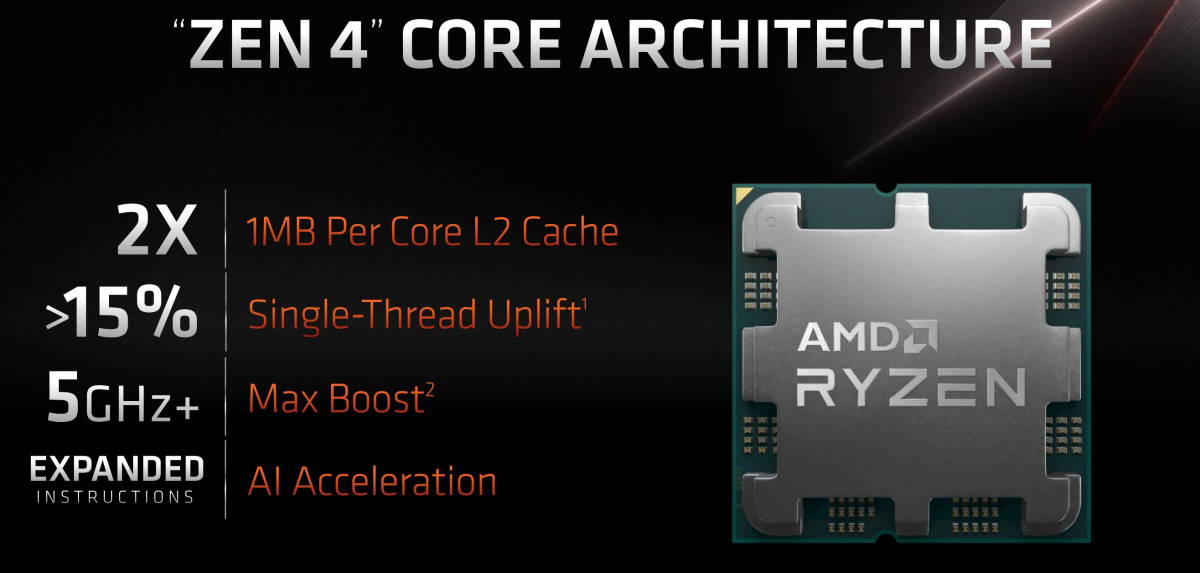 Much was expected of AMD during this Computex, and thankfully the company has lived up to the hype. After a somewhat decaffeinated CES and in the presence of an Intel that has internalized the lessons of recent years, AMD could not disappoint with its new Ryzen 7000, a new generation of desktop processors destined to maintain the bulk of its sales during the next year or a year and a half. At first glance, it seems that Lisa Su's company has hit the mark.
Designed to take advantage of the new Zen 4 microarchitecture, the new Ryzen 7000 will be the first desktop processors manufactured using a 5nm lithographic process, perfecting thanks to TSMC advances a design of chiplet otherwise relatively familiar, combining the CPU cores on the one hand and on the other a die 6nm (previously 14nm), an RDNA 2 GPU along with DDR5 and PCIe 5 controllers.
According to AMD, thanks to Zen 4 its new desktop processors will benefit from a performance improvement of approximately 15% using a single core (the limit is set for now at 16 cores per processor) and will be able to enjoy speeds of more 5GHz in turbo mode. There's also double the L2 cache (1 MB), which will certainly be noticeable in a number of professional applications. AMD has not provided the amount of available L3 cache for now.
Of course, the Ryzen 7000 will support PCIe 5.0 to take full advantage of the latest graphics cards, with up to 24 lanes available. This feature will add support for up to 14 USB-C connectors, Wi-Fi 6E, Bluetooth 5.2, up to two HDMI 2.1 ports, and the same number of DisplayPort 2.
As an interesting fact, it seems that all this display of speed and performance will come with a significant increase in TDP, but again, we will not be able to say much more until AMD reveals the range of processors in detail. The official launch will take place in the fall, and AMD promises that in the meantime it will unravel more details on aspects such as support for DDR5 and the integrated GPU.
New socket for a new generation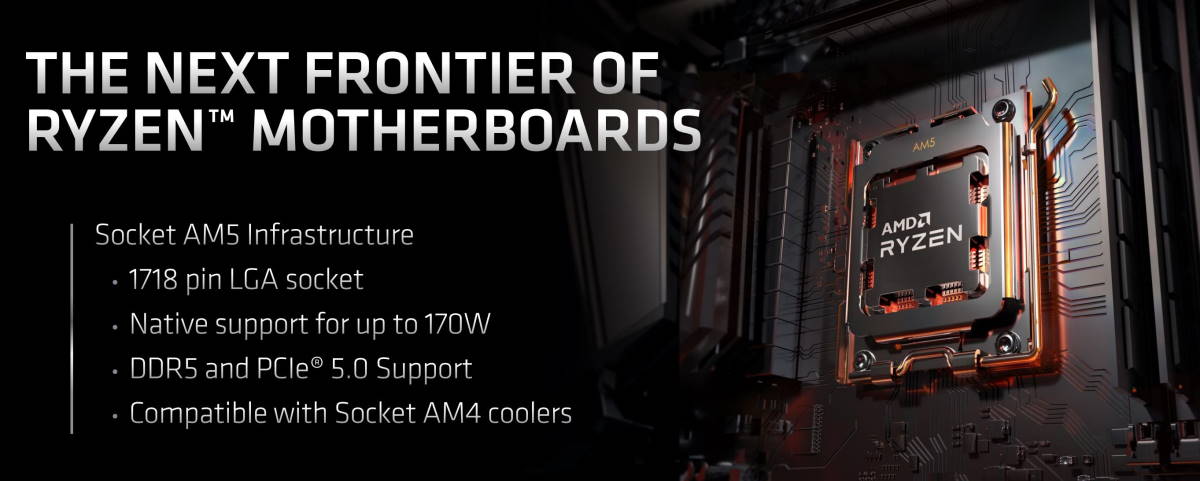 Until now AMD had had the detail of not forcing the update of the motherboard to update the CPU, but everything has an end, and with Ryzen 7000 there will be no choice but to brand new socket. The new AM5 uses a 1,718-pin LGA design backwards compatible with AM4 heatsinks, and together with its three new chipsetsit will be necessary if you want to use a next generation CPU.
In this regard, it has announced chipsets X670E (Extreme), X670 and B650. The first of them is aimed at overclockers and will offer full support for PCIe 5.0 ports using their full speed. At the opposite extreme is the B650, designed for more affordable equipment and compatible with both PCIe 5.0 and DDR5, although predictably using lower speeds.
The differentiating factor of these boards will be the implementation of the PCIe 5.0 standard. In AMD's slides the X670E is described as PCIe 5.0 compliant "everywhere", X670 as having PCIe 5.0 for "graphics and storage", and finally the B650 boards will have PCIe 5.0 for storage. There may also be differences in support for different speed DDR5 modules, but again, we'll have to wait until the fall for full details on motherboards and processors.