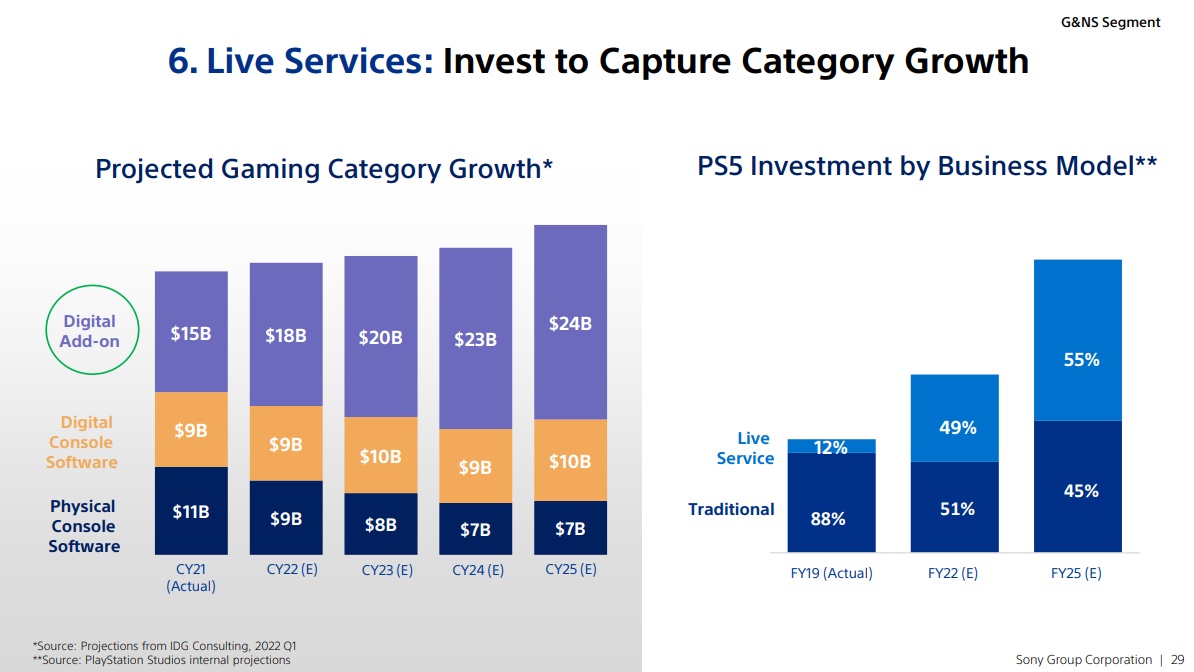 The
sony plans
They don't just go through diversifying their business and increasing the audience of their franchises with the launch of titles on PC and mobile. The company's strategy also includes substantially increasing the number of games as a service or
live service
, in such a way that in 2025 this business model receives a greater investment than the traditional one. Another vector of growth for Sony is PlayStation VR2, which will hit the market accompanied by more than 20 games.
During fiscal year 2019, PlayStation Studios' investment in PlayStation 5 titles with a traditional business model was 88%, while games as a service made up for 12%. These figures will change radically in the coming years. Sony's forecast is that during the fiscal year 2022 games as a service will take 49% of the investment of PlayStation Studios and that in 2025 this percentage will reach 55%. 45% of the remaining money will be for traditional model titles.
Sony's interest in games as a service is due to the generous revenue they generate over time and the growth they will experience over the next few years. Jim Ryan, chairman and CEO of Sony Interactive Entertainment, acknowledges that PlayStation Studios has historically delivered excellent performance in delivering a catalog of graphically rich, narrative-rich games, but says this approach has limited them to a small portion of the software market.
Thanks to this greater investment in games as a service, Sony will be able to launch more titles with this business model. The company's forecast is that in fiscal year 2022 it will have two games as a service, six in fiscal year 2023, ten in fiscal year 2024 and twelve in fiscal year 2025. Is there an audience for that many games? Possibly not, but this is not something Jim Ryan is too concerned about. the executive it states that if even a fraction of those dozen titles enjoy critical and commercial success, their impact will already be transformative.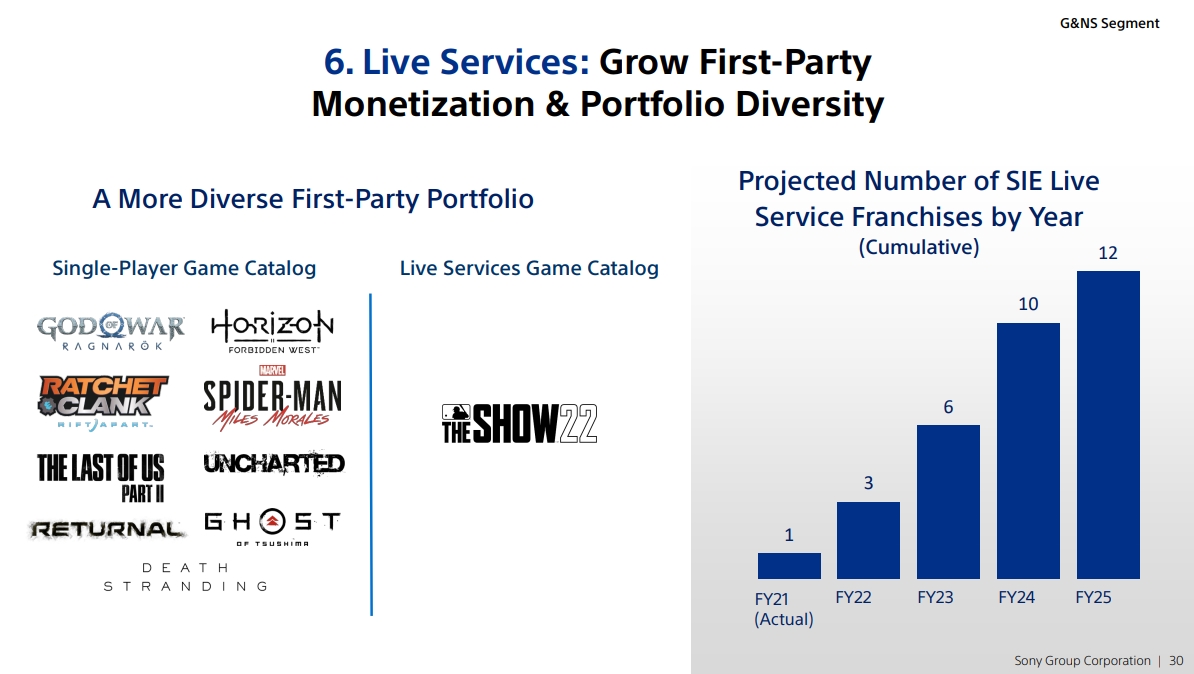 The two games as a service that will arrive during fiscal year 2022 have yet to be announced.
Sony considers that as of today it only has one game first-party as a service: MLB The Show 22. All other titles, including Horizon Forbidden West, God of War: Ragnarök, Marvel's Spider-Man Miles Morales, The Last of Us Part II, Ghost of Tsushima, Ratchet & Clank: A Dimension Apart, the Uncharted, Returnal or Death Stranding saga are considered to be of the traditional model. One of Sony's keys to expanding its games-as-a-service portfolio is Bungie, which in addition to adding Destiny will provide tools and experience in this sector.
Sony's document also reveals that another of the company's goals for 2025 is that half of PlayStation Studios' investment be allocated to new intellectual properties. This desire is in line with the strategy of launching more games as a service, since most of them will probably be new licenses. During fiscal year 2022 the investment split is divided between 66% for existing intellectual properties and 44% for new bets.
And the more 20 games first Y third party for PS VR2 launch? For now we have to keep the number. Sony has not found the details and today we only know Horizon Call of the Mountain. We also don't know when the new VR headset will be available or how much it will cost.